Dalian Facts
Dalian Map
Name: Dalian (大连; Dàlián (/da-lee-en/))
Meaning: "great connection"
Previous names: Qingniwaqiao, Dalny (Russian), Dairen (だいれん Japanese)
Features
Named one of China's top three cities for tourism in 2007
Beaches that have been popular with Russian, Japanese and Korean tourists
One of China's top ten busiest ports
Information technology and microelectronics manufacturing industry leader
Main Attractions
History
The city began as a Russian town and port, and then it was part of Japan's mainland colony from 1905 until 1945.
1858 The British Empire occupied the area.
1898 The Russians built a town there to support their railroad and port.
1905 The Empire of Japan conquered the area.
1945 The USSR took control of the area.
1985 Dalian was designated as a Special Economic Zone.
Geography
Significance of city: thriving industrial and tourist city. It has one of China's largest ports, is a financial center for the northeast, and is a high technology and information technology center. Because of its beaches and resorts, warmer climate and proximity to Russia, Japan and Korea, it is a favorite tourist destination for citizens of those countries.
Municipality terrain: the city sits on a peninsula between the Yellow Sea and the Bohai Sea.
Average altitude: 29 meters (95 feet)
Location Information
Municipality location: 38.92N, 121.61E, in northeastern China
Municipality population: 6,200,000
Municipality land area: 12,574 sq km (4,855 sq mi)
Urban area: 7,678 sq km (2,964 sq mi)
Urban population: 3,578,000
Urban population density: 466/sq km (1,207/sq mi)
City center: Zhangshan Square (38.92N, 121.64E) in Zhongshan District.
Climate
Average high temperature in July: 27.3 °C (81.1 °F)
Average low temperature in January: -6.8 °C (19.8 °F)
Continental, monsoon-influenced humid climate, annual precipitation: 602 mm (23.7 in)
Though the climate is humid, it is also paradoxically arid. There is comparably little rainfall, and there is lots of sunshine.
Economy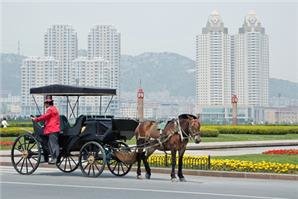 Average annual income (2009): 71,833 RMB (10,400 USD)
Development: rapidly developing industrial city. The official statistics show that the city's GDP has had double digit growth rates every year from 1992 to 2009.
Industry: 40.5% tertiary industry (services, finance), 52.4% secondary industry (heavy industry, shipbuilding, petrochemicals, electronics, software), 7.1% primary industry (agriculture, aquaculture)
CBD: 38.92N, 121.64E in Zhongshan District.
Shopping Streets: Tianjin Walking Street
Transportation
1 regular train station
1 bullet train to Harbin may operate in 2012 or 2013
Questions and Answers About Dalian Facts
Michael
2014-02-19
Show Answer
What is the number of English speaking non Chinese living in Dalian?
Hi Michael, sorry, we don't have the exact data. Whitney Liao replied on 2014-02-21
Watts
2012-11-23
Show Answer
How far is Dalian from Shanghai? Are their daily flights from Shanghai? What is the cost? We would be boarding a Princess cruise ship on May 4, 2013 that originally set sail on May 3rd from Tianjin (2 hrs outside Beijing).
Hi Watts, from Shanghai to Dalian is about 1,100km. Yes, there are daily flights from Shanghai, but the airfare differs everyday. You can check it here: http://www.chinahighlights.com/china-flights/ If you need us to book the tickets for you, please feel free to contact me via whitney@chinahighlights.net
Whitney Liao replied on 2012-11-25
April Offer $25 Coupon
Send your inquiry before Apr. 30, 2014, and we will email you a $25 coupon.
The coupon is valid till Dec. 31, 2014, for paying tour packages worth $250 or up.
The coupon cannot be used for paying flight tickets, train tickets, hotel rooms and day trips.
Travel Advice or Question? Ask us here

China Highlights
Dalian Travel Guide