Dalian Maps
Other City Maps
View Dalian details on Google map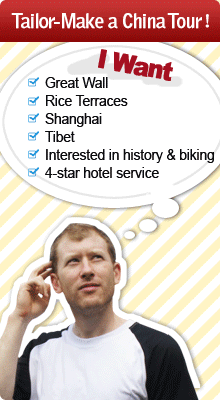 Questions and Answers About Dalian Maps
shirley chan
2014-04-05
Show Answer
i want to go to dalian zhongshan district in middle of sept. until 10/10/14, i want to stay in hotels in zhongshan for 1 month, during stay in hotel, i want some tours for 1 day or 4 days around dalian or outside dalian, can you offer me the tours, how about the weather at that time
Dear Shirley, Thanks for your question. Yes, we can arrange tours for you. Would you please let me know how many people in your group including youself and which attractions or places you would like to visit so that I can tailor made a tour accordingly? The average low and high temperature is respectively at 11 °C (52 °F) and 19 °C (66 °F) in October there. Nancy Nancy Deng replied on 2014-04-06
souleymane
2011-02-24
Show Answer
Hello, can i get one big Dalian map in order to know Dalian very well?
Hi Souleymane, This is the only English map I can find. Hope it suits you. http://maps.google.com/maps?hl=en&tab=wl Lussie Lu replied on 2011-02-25
Mladen Marcikić
2010-08-10
Show Answer
Are there in Dalian international airpot ? What is the best way by plain from central Eurpe to Dalian ?
Yes, there is an international airport in Dalian: Dalian Zhoushuizi International Airport . The airport operate a few international flight to London, paris, and Hong Kong. You may consider taking a flight to hong kong first and then transfer to another flight to Dalian. There are direct flights from Hong KOng to Dalian. Ruru Zhou replied on 2010-08-10
Hello Mladen, You can search on our website at http://www.chinahighlights.com/china-flights/flights-to-china.htm to see if there are flights from your nearby airport to Dalian. If there are not, it is suggested that you first take a flight to Beijing, Shanghai or Guangzhou, then transfer flights to Dalian. This way is also convenient. For China domestic flights booking and searching, see http://www.chinahighlights.com/china-flights/ If you need any tour services in China, feel free to send us your inquiry to service@chinahighlights.com, our travel advisors will reply to you within 1 working day. Mia Yang replied on 2010-08-10
April Offer $25 Coupon
Send your inquiry before Apr. 30, 2014, and we will email you a $25 coupon.
The coupon is valid till Dec. 31, 2014, for paying tour packages worth $250 or up.
The coupon cannot be used for paying flight tickets, train tickets, hotel rooms and day trips.
Travel Advice or Question? Ask us here
Dalian Travel Guide
Dalian Facts
Chinese Name: 大连
Chinese Pinyin: dà lián
Location: North of China
Latitude: 38° 54' N
Longitude: 121° 38' E
Elevation: 50 M (164 FT)
Area Code: 0411
Population: 6.13 million
Time Zone: (UTC+8)