Dalian Weather in September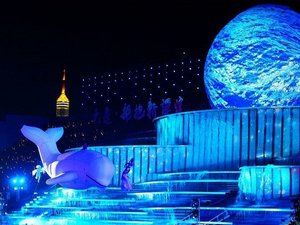 September begins to cool down, with an average temperature of 18 °C (64.4 °F). The high and low temperatures are 20 °C (68 °F) and 10 °C (50 °F), respectively, and the days are mostly sunny.
Wearing a long-sleeve shirt with a light overcoat and long trousers or jeans is adequate. If you are not in good physical condition, also wear a thin sweater because it's cool in the early morning.
The Dalian International Fashion Festival is held in September. The festival, as well as Dalian's beautiful scenery and culture and reputation as a fashion city, brings many celebrities and super stars during this time . Take the chance to see your favorite super star. September is also crowded so make your reservations in advance. See our Dalian Tours.
Dalian Climate Information by Month

China Highlights
Planning a trip? Ask us here 800-2682918 (USA & CA)
86-773-2831999 (Int'l)
Q:
kho SoonKheng
Asked on 2012-09-11
Reply
where is the wet market in dalian ie, places where vege & fruits are sold ? I also like to buy the local wood & stone carvings & chinese painting & caligraphy. As a first time tourist, what is the famous products to bring home.
Hi Kho, There is a very big wholesale wet market in the North Square of Dalian Railway Station, where the vegetables & fruits there are the cheapest.
Dalian is popular for its great varieties of artworks sculpted out of shells. The products included hanging paintings, screens, lamps and ornaments. These seashells carvings can be found in most of the shopping malls in Dalian.
Whitney Liao Replied on 2012-09-12
Q:
James
Asked on 2012-08-21
Reply
I am visiting Dalian in Sep 2012. Is it true that most of your public toilets at places of interest are squatting and no sitting pedestal.
Hi James, Yes, in most of cities, public toilets at places of interest are squatting and no sitting pedestal and also no facial tissue, you need to prepare it.The rest rooms in western style are provided in most hotels. Lussie Lu Replied on 2012-08-22
Dalian Travel Guide