You will explore three must-see world famous Chinese attractions: the Badaling Great Wall, the Ming Tombs and the Sacred Way. The Great Wall is a symbol and also a priceless relic of China, and Badaling is the best-preserved and most popular section. The 500-years-old Ming Tombs are the best-preserved burial sites of China, and the Sacred Way has the oldest and largest-scale stone statues in China.
Highlights
Visit the Badaling Great Wall, the easiest section of the Great Wall to climb.
Visit the Sacred Way, which is the eye-catching pathway to imperial tombs.
Visit the Ding Mausoleum, the largest mausoleum among the 13 Ming Tombs.
Private car
Accompanied by a professional guide.
An authentic traditional Chinese lunch.
Hotel pickup and drop off.
Key Sights: The Badaling Great Wall, the Sacred Way, and the Ding Mausoleum

Badaling Great Wall

Badaling Great Wall

Sacred Way

Ding Mausoleum
Tour Itinerary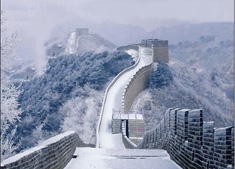 The Badaling Section of the Great Wall in Winter
Located at the northern exit of the ancient road, the Badaling Great Wall used to be called one of the nine forts in the world. And this section is the most well-preserved and the most representative section of all, which is quite rugged and occupies a commanding position. After many renovations, the available section covers 3,741 meters.
After lunch, you will walk along the Sacred Way, an attractive tree-lined walk leading to the Ming Tombs. It has 12 pairs of life-sized animal and human statues, one each side of the pathway. And there is a very eye-catching memorial archway, which is the first building in front of the mausoleum; people called it the Great Red Gate.
Then we will visit the Ding Mausoleum, which is the mausoleum for the tomb of Emperor Zhu Yijun, the 13th emperor of the Ming Dynasty. It is the representative of the royal tombs which covers an area of 18,000 square meters with three entrances and a fort. Duration in Ming Toms: 2 hours.
At the end of the tour at around 17:00, you will be transfered to your hotel.
Tour Price
1 person
2-3 persons
4-5 persons
6-9 persons
> 10 persons
loading....
Book This Tour
Inclusions
Entrance FeesLunchPrivate TransferPrivate Guide and Driver
Exclusions
Toboggan or cable car rideGratuities (recommended)Items of a personal nature