The Mutianyu Section of the Great Wall Private Beijing Day Tour (Private)
Explore one of the New Seven Wonders of the World: the Great Wall of China. You will head for the Mutianyu Section of the Great Wall, which is fully-preserved and has the best architecture among all the sections of the Great Wall.
Highlights
Visit the longest fully-restored Great Wall section opened to tourists
The Great Wall section which winds a path over steep mountains among great scenery
The Great Wall section with the best architecture interspersed with 22 original watchtowers
Private well-trained 'local' English-speaking tour guide
Private car
An authentic traditional Chinese lunch
Hotel pickup and drop off
Mutianyu Great Wall Sights - You will see on your trip
Magnificent Great Wall winding on high mountains
The best-preserved Mutianyu section is less-crowed than Badaling. It features a great amount of historical and cuktural relics as well aswatchtowers. It is also one of the best place to hike for experiencing the Great Wall.

Beautiful scenery changing from season to season
A Mutianyu Great Wall is also famous for beautiful scenery. It presents different aspects of beauty in four seasons. In spring, you can enjoy flowers blooming around the Wall. In summer, the Great Wall is surrounded by green pines and cypresses. As you can see from afar, the Great Wall is covered by green. When autumn comes, when trees leaves change colour, you can see yellow, red, golden, orange and green leaves that filled more than 90 percent vegetation area around the Wall. In winter, after snow, the Great Wall looks stunningly beautiful in pure white clothes.
Mutianyu In Spring

Mutianyu In Summer

Mutianyu In Winter
Tour Itinerary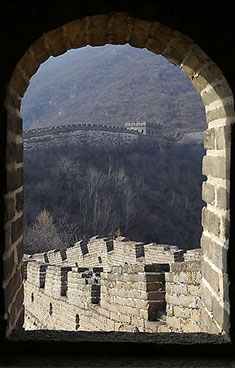 Mutianyu Section of the Great Wall
You will be picked up from your hotel at about 8:30am by your private car and guide who will escort you during this one day tour.
Then you are bound for the Mutianyu Section of the Great Wall, which is located about 90 kilometers northeast of Beijing City. You are advised to wear good walking shoes and protection from the weather.
The Mutianyu Section of the Great Wall winds on steep mountains covered with a dense greenery of pines and cypresses. The scenery is great. 22 original watchtowers were built, about one every kilometer. Hiking on the ancient Great Wall while listening to the history and interesting stories of the Mutianyu Section of the Great Wall can be very impressive.
If you want to see the stunning panoramic views of the Great Wall from a distance, you can take a cable car (extra cost).
After a late lunch, you'll be transferred to your hotel in downtown Beijing by your private car.
Tour Price
| 1 person | 2-3 persons | 4-5 persons | 6-9 persons | > 10 persons |
| --- | --- | --- | --- | --- |
| --- | --- | --- | --- | --- |
Book This Tour
Inclusions
Entrance Fees
Lunch
Private Transfer
Private Guide and Driver
Exclusions
Toboggan or cable car ride
Gratuities (recommended)
Items of a personal nature