Mutianyu Great Wall & Ming Tombs Tour (Group)
On this full-day Beijing tour, you will see two of the most popular attractions in China: the Mutianyu Section of the Great Wall and the Ming Tombs. The Mutianyu Section of the Great Wall is fully restored, is less crowded, and has better architecture than the section at Badaling. The Ming Tombs, with a history of over 500 years, are burial sites of 13 emperors of the Ming Dynasty.
Highlights
The Mutianyu Section of the Great Wall, the longest fully restored Great Wall section open to tourists
The largest of the excavated Ming emperor burial sites, a section of the underground palace called the Dingling Tomb
Olympic Park, a great photo opportunity
A well-trained 'local' English-speaking tour guide
A renowned jade factory outlet
An authentic traditional Chinese lunch
A 22-seat air-conditioned coach with up to 10 English-speaking travelers
Hotel pickup and drop off
Our Product Manager - Apple Zeng
" The Mutianyu is less crowed than the Badaling Section of the Great Wall. As one of the best-preserved parts of the Great Wall, the Mutianyu Section was first built in the Northern Qi Dynasty (550-557). It is loccated 70 kilometers northeast of Beijing, winds among the orchards and pines in the mountains."
Mutianyu Great Wall Sights - You will see on your trip
Great Wall winding through mountains
Have a walking along the best-preserved section of the Great Wall and enjoy the picturesque views of the wall snaking through the tree-covered mountain.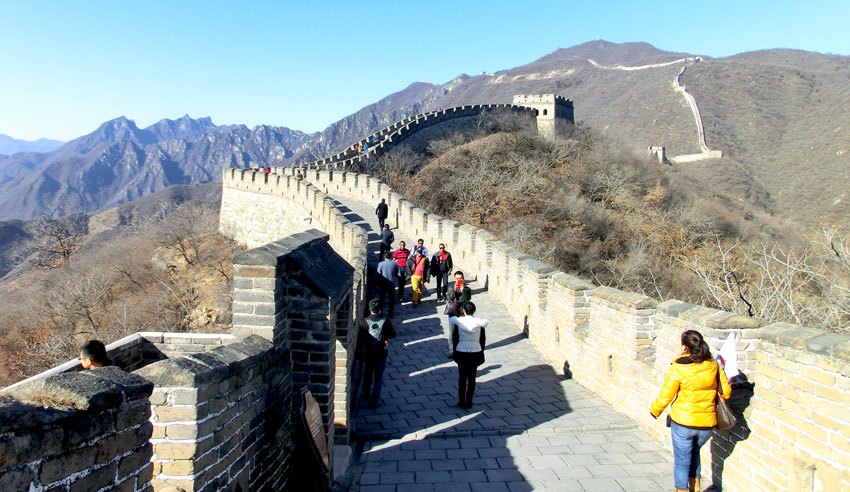 Dajiaolou Watch Tower
Dajiaolou, also called the Muzi Number One Tower, is one of the most famous scenic spots on Mutianyu Section of the Great Wall. This tower is connected with three sections of the Great Wall - the westward section connects with Badaling Great Wall and the eastward section connects with Gubeikou Great Wall.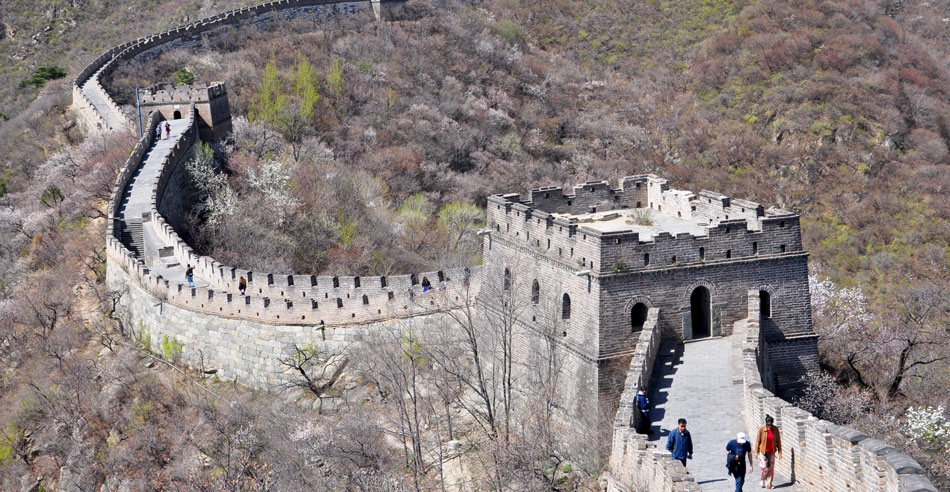 Zhengguantai Watch Towers
Built in the Ming Dynasty (1368-1644), Zhengguantai is consisted of three watch towers, with crucial strategic position.
Tour Itinerary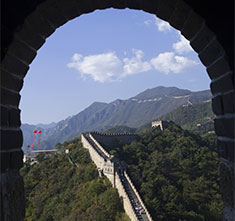 Mutianyu Section of the Great Wall
The tour guide will pick you up from your hotel on the departure time between 7:00am and 8:00am. At about 9:00am, you will arrive at your first stop on your tour, Ming Tombs, the largest and best-preserved burial site for Ming emperors. You will explore the Dingling Tomb, the tomb of the thirteenth emperor of the Ming Dynasty, Emperor Wanli, and his two empresses. The tomb is the only Ming Dynasty Tomb that has been excavated. This underground palace is 27 meters deep and has an area of 1,195 square meters. The tomb held over 3,000 relics, journeys, and treasures that have been unearthed. Duration: two hours. Sightseeing on Ming Tombs will be ended at 11:00am.
After the tombs, enjoy a stop at a famous jade factory to see how jade products are made, and enjoy some shopping. After that at 12:00, you will enjoy an authentic traditional Chinese lunch, which will prepare you for your next destination: the Mutianyu Section of the Great Wall. To see stunning panoramic views of the Great Wall from a distance, you can take a cable car (extra cost). Duration on the Great Wall: approximately two hours. Sightseeing on the Great Wall will be ended at 3:30pm.
You will pass by Olympic Park on the way back to your hotel. Take the chance to take photos of the Bird's Nest and the Water Cube, even though you do not have a stop there. Before you get to you hotel, you will have the opportunity to view traditional Chinese silk arts.
Tour Price
| 1 person | 2-3 persons | 4-5 persons | 6-9 persons | > 10 persons |
| --- | --- | --- | --- | --- |
| --- | --- | --- | --- | --- |
Book This Tour
Inclusions
Professional guide
22-seat air-conditioned coach
Lunch
Entrance fees
Exclusions
Toboggan or cable car ride
Gratuities (recommended)
Items of a personal nature
Special Notes for a Seat-in-a-Coach Tour
A seat-in-a-coach tour minimizes costs because expenses are shared among a larger group.
Seat-in-a-coach tours are operated by local business partners of China Highlights around China. China Highlights chooses business partners by strict quality standards. The service of a seat-in-a-coach tour may be not as considerate as that of a private tour sometimes.
Visiting a shop or a market is always included in a seat-in-a-coach tour, but you don't have to buy anything.
A seat-in-a-coach tour usually consists of more than 5 people with a maximum of 16. You will have a local guide and use a 22-seat air-conditioned coach. We will pick you up at some appointed hotels at the appointed time. In contrast a private tour provides a private car and guide. And we will pick you up at your hotel.
Customer Review
by Kawther Aug.08 2013
Oue guide Gerry was very nice. He is professional and helpful. The Forbidden City and the Great Wall are amazing! We really enjoyed our trip. The only drawback is that we had to go to some shops but I did not find anything I liked. Overall this tour is good value for money.
by Abdul Aug.08 2013
We did not have too much time in Beijing. So we booked this tour to see the essence of the city. We really enjoyed our time. Our guide was nice. Lunch was so so.