Follow in the footsteps of the movie The Painted Veil on this seat-in-coach tour. Not only will you see the locations where the movie was shot, but you will also experience local culture and rural life in this famous ancient town.
Highlights
See film locations from The Painted Veil

Stroll along the stone streets in this original ancient town

A well-trained English-speaking tour guide.
Air-conditioned Coach

Hotel pickup and drop off.
The film The Painted Veil was shot in 2005 in Huangyao Ancient Town in China and released in 2006. Based on the classic novel by W. Somerset Maugham, "The Painted Veil" is a love story set in the 1920s that tells the story of a young English couple, Walter, a middle class doctor and Kitty, an upper-class woman.
Huangyao Ancient Town in The Painted Veil
Feel the movie while strolling on the old streets, sitting on the stone steps, rowing a boat on the river and passing through bamboo forest in this ancient town.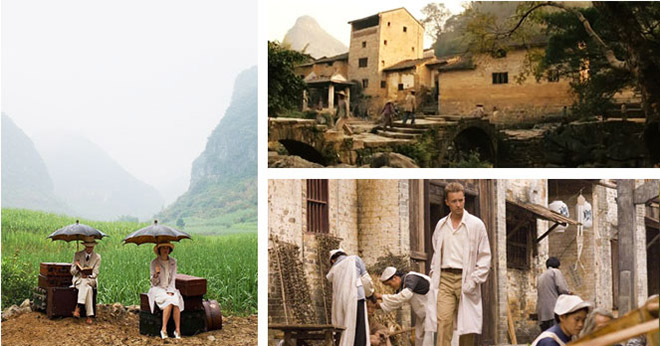 Huangyao Sights - You will see on your trip
The Ancient Town
A well-preserved ancient town with a history of more than a thousand years. The residence houses in the village are in primitive simplicity with blue bricks and black tiles, which embodies Linnan style of architecture.
Guo's Family Residence
Guo's Family Residence was built in the Qing Dynasty (1636-1912) by Guo Jikang, a Jinshi (a successful candidate in the highest imperial examinations) during the reign of Emperor Qianlong.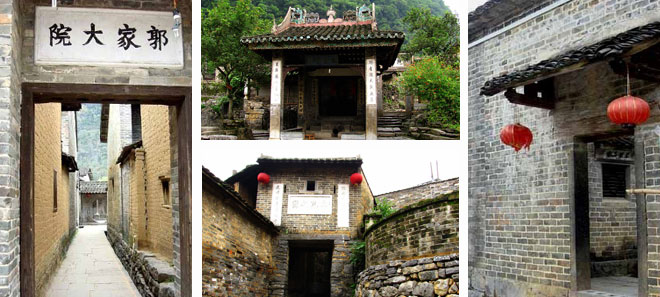 An old stage
An old stage which was built in 1524 during the Ming Dynasty (1368-1644). This classic architecture shows antique flavor.

The Big Banyan
The Big Banyan has a history of more than 500 years. The branches of the tree look like dragon's claw.
The Wenming Pavilion
The Wenming Pavilion is built on the mountain functioning as a worship site of the locals. Viewing from here, you can see the leisure countryside scene with clean river and green fields.
Arts and Crafts Stalls
These distinctive stalls selling local snacks and handicrafts are good ways to learn about this ancient town and experience local culture. Some of the snacks and handicrafts are made by local residents. They have become a characteristic of Huangyao Ancient Town.

Tour Itinerary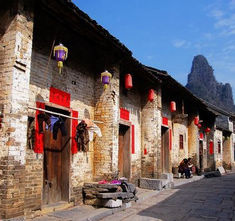 Huangyao Ancient Town
You will be picked up at your Guilin hotel at about 8:00. The guide will call or leave you a message the night before your tour to prearrange the meeting time. It takes 3 hours from Guilin to Huangyao Ancient Town- one of the four most famous ancient towns. It is also the place where the popular film The Painted Veil was shot. This film was adapted from William Somerset Maugham's novel. Greta Garbo, one of the most famous actresses in Hollywood, was the chef actress when the film was first shot in 1936. After 70 years, this film was shot again in this ancient town, with Naomi Watts as the female leading role.
Not only will you visit the attractions in the film, but you will also experience local life and culture. The buildings in the village are laid out in a pattern of Nine-Palaces and Eight-Diagrams, which embodies Linnan style of architecture. You will visit the old stage to watch a folk art performance and then your guide will show you around and explain the history and culture of the town. You can walk around, experience local life and find local delicious snacks. You will leave Huangyao at 3:00pm and arrive back to Guilin at 6:30pm.
Note:
1. The tour guide gives a guided tour for about 2 hours and the rest of the time was free for you to wander.
2. You can bring a packed lunch (sandwiches, fruit and bottled water) as lunch is not included in this tour.
Tour Price
1 person
2-3 persons
4-5 persons
6-9 persons
> 10 persons
loading....
Book This Tour
Exclusions
Gratuities (recommended)Items of a personal nature
Special Notes for a Seat-in-a-Coach Tour
A seat-in-a-coach tour minimizes costs because expenses are shared among a larger group.
Seat-in-a-coach tours are operated by local business partners of China Highlights around China. China Highlights chooses business partners by strict quality standards. The service of a seat-in-a-coach tour may be not as considerate as that of a private tour sometimes.
Visiting one or two shops or markets is always included in a seat-in-a-coach tour, but you don't have to buy anything.
A seat-in-a-coach tour usually consists of more than 5 people with a maximum of 16. You will have a local guide and use a 22-seat air-conditioned coach. We will pick you up at some appointed hotels at the appointed time. In contrast a private tour provides a private car and guide. And we will pick you up at your hotel.