Suzhou Day Trip
Our Travel Advisors' Top Hand-Picked Day Tours
We have 2 Packages for your match!
Suzhou Gardens One-Day Tour (Private)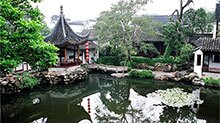 In this whole-day culture tour, you will explore one of the most beautiful cities in China-- Suzhou. Visit its popular scenic spots, including the Lion Grove Garden, Lotus Garden, Tiger Hill, Fengqiao Bridge and Hanshan Temple.
Duration:8 hrs
Attractions: Hanshan Temple,Ouyuan Garden,The Maple Bridge,Tiger Hill
Humble Administrators Garden and Luzhi Ancient Town One-Day Tour (Private)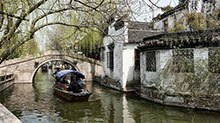 This tour includes Suzhou's classic gardens and a water town which is less visited but beautiful – Luzhi Ancient Water Town, which has been listed as one of China's famous historical and cultural towns. It is located in southeast of Suzhou, about 20 kilometers (13 miles) from the city.
Duration:8 hrs
Attractions: Luzhi Ancient Town
Suzhou Day Trips
Suzhou Intrest Focus