Dongguan Transportation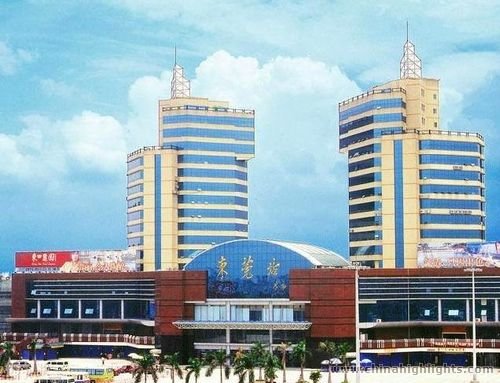 Air
Dongguan City is located in the Pearl River Delta, China's prosperous region with concentrated international airports. Though there are no airports in Dongguan, travelers can have easy access to airports of neighboring cities, with convenient transportation. Guangzhou Baiyun International Airport and Shenzhen Bao'an International Airport are about 60 kilometers (37 miles) to the north and south. Zhuhai Sanzhao Airport and Hong Kong International Airport are about 100 100 kilometers (62 miles) away. Shuttle buses are available from hotels across Dongguan to all the airports mentioned above.
For going to Hong Kong International Airport, travelers can take a ferry at Humen Hong Kong-Macau Ferry Terminal (虎门港澳客运码头). Check out more information.
Railway
Dongguan serves as one of the railway hubs in Guangdong Province, as it is the point where Guangzhou-Kowloon Railway, Beijing-Kowloon Railway and Guangzhou-Shenzhen Railway converge. Railway transportation is convenient for getting to Guangzhou, Shenzhen, Hong Kong, and some major cities in China. Travelers can also use the neighboring Guangzhou Railway Station and Shenzhen Railway Station.
There are two railway stations in Dongguan, which are Dongguan Railway Station and Dongguan East Railway Station. Both are located in Changping Town, about 1 hour drive from Dongguan city center.
Dongguan Railway Station serves for short distance trains to Shenzhen, Guangzhou and Hong Kong.
Dongguan East Railway Station serves for long distance trains to many big or medium cities in China, including Beijing, Nanjing, Chengdu, Qingdao, Changsha, Zhengzhou, Xi'an, Xiamen, Shantou and Nanchang.
Dongguan Railway Station Tel: 0769-86296476
Dongguan East Railway Station Tel: 0752-5824372
Highway
Dongguan City has a highly developed and convenient highway transportation network. There are buses to Hong Kong, Macau and major cities in China and within Guangdong Province.
Dongguan Central Bus Station 东莞汽车总站
Buses to: Foshan, Chaozhou, Shenzhen, Zhuhai, and cities in Fujian Province (Xiamen) and Guangxi Province (Guilin, Nanning).
Getting there: Public bus No.3
Address: At the intersection of Si Huan Road and Xin Wan Road, Qu Hai community, Wanjiang, Dongguan (万江曲海社区四环路与新万道路交汇处)
Dongguan Nan Cheng Bus Station 东莞南城汽车客运站
Buses to: Macau, Foshan and Guangzhou
Getting there: Public bus No 27, 40, 50, 66, 77, 105
Address: No.99, Hongtu Road, Nancheng District (南城区宏图路99号)
City Transportation
The most convenient way for getting around in Dongguan is by taxi. The flag-fall price is 8 yuan plus 1 yuan as the fuel surcharge for the first two kilometers. Travelers can also call 23012345 for taxi. This service number is open round the clock.

China Highlights
Planning a trip? Ask us here 800-2682918 (USA & CA)
86-773-2831999 (Int'l)
Q:
joselin
Asked on 2013-04-25
Reply
how much time takes to go to dongguan from honk kong? please i need to know it!
Dear joselin, You could take a bus from Hong Kong airport to Dongguan, it takes about 2.5-3 hours. Please click this link for the details: http://www.hongkongairport.com/CBT/Itinerary?actionType=list&locale=eng&locType=t&locCode=dgc&arr_dep=D&locations=-DGC&operation=&deptDate=&schehr1=00&schemin1=00&schehr2=23&schemin2=59 Lussie Lu Replied on 2013-04-25
Q:
angelina
Asked on 2013-04-16
Reply
Hi, is there any bus from Shenzhen Wan to Dong Guan? If so, what''s the schedule like? thanks
Dear Angelina, I didn't find any buses from Shenzhen Wan to Dongguan. You could take a taxi to Nanshan bus station(南山南山长途汽车站), then take a long distance bus to Dongguan. The bus sets off from 6:00am to 18:00pm. It costs about CNY50/US$8 per person. Lussie Lu Replied on 2013-04-17
Q:
parveen arora
Asked on 2013-04-06
Reply
dear sir/madam i reached at Baiyun Airport Guangzhou at 11th april 12.30 am hope by clearing custom i out at 1.30 am i understand no public transport available at that time. kindly advice me a cheaper taxi and what it would be cost to me ? i stay at dongguan exibhition hotel in Dongguan
Hi Parveen, at that time, a taxi to Dongguan would be very expensive. They won't charge by miles, but by price settled first. I don't know the exact price, you can try your best to get a good offer.
Whitney Liao Replied on 2013-04-09
Q:
Kabeert
Asked on 2013-02-25
Reply
I am arriving at Hkg Airport @9pm (from Dubai) and would like to go to Dongguan Sheraton Hotel. Please let me know the best and easiest way to reach there.
Dear Kabeert, There are some buses from Hong Kong airport to Dongguan, and you could take the bus to the hotel directly. It takes about 3 hours. Please click this link to realize the details: http://www.hongkongairport.com/CBT/Itinerary?locale=eng&actionType=list&locType=t&arr_dep=D&locCode=hj&locations=-HJ&operation=&deptDate=27%2F02%2F13&schehr1=00&schemin1=00&schehr2=23&schemin2=59 Lussie Lu Replied on 2013-02-25
Q:
ton
Asked on 2013-02-18
Reply
Hello, would you please assist me on how could I reach Nan Chen District, Dongguan City from Guanlan town, Bao''an District, Shenzhen, if I take a bus? what would be the best transpo that you could suggest? thank you..
Dear Ton, You could take a bus from Guanlan bus station(观澜汽车站), it is available from 6:30 am to 19:00 pm. It takes about 1.5 hours. You will be transferred to Dongguan east bus station where is about 50 km from Nancheng district. Then you could go to Dongguan east railway station to take express line 3 (公交快线3路)or No.303 bus to Nancheng bus station directly, it takes about 2 hours at least. Lussie Lu Replied on 2013-02-18