China Tour Feedback from Argentina Customers
We collected the feedback from our Argentina customers about their experiences in China, including the ratings and comments on attractions, guides, activities, hotels and food in China cities.
Would you like to look at what tour previous customer tours have recommended? If you basically like what you see you can choose to customize it to get just what you want.
Category
Year Uploaded
Customers' Home Country
Travel Advisor
Search Feedback
HOLA ROBERT
YA ESTAMOS EN CASA NUEVAMENTE.
TE ESCRIBO EN NUESTRO IDIOMA PORQUE HAY PALABRAS DE AGRADECIMIENTO QUE ME CUESTA EN INGLéS.
QUIERO DESTACAR PRINCIPALMENTE TU LABORIOSO TRABAJO PARA QUE, LO REALIZADO, HAYA SIDO UN>... Read more »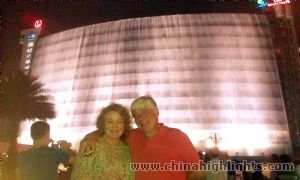 The Guilin night tour thru the 4 lakes should be a must. We contract it with your guide and for us it was a Wow experience. We enjoyed every day we were in China and with its people, and we are sure that we will be back in a pair of years to continue>... Read more »
Client:
Alfredo
Tour Dates:
September 14, 2012 - September 30, 2012
Tour Title:
17 Days Beijing, Xian, Chongqing, Yangtze, Yichang, Shanghai, Guilin, Yangshuo, Hong Kong Tour
We have just arrived to Buenos Aires, we spent same days at Dubai. We had a wonderful time in china !!!!!! We will always remember your hospitality. >Read more »
Nora always sent us a lot of information about China and how to made us our trip easier. We are so excited with our next trip. >Read more »
We also want to thank you very much the guide of zhangjiajie Victor,because when we were going from fenghuang to the airport to take the plane to go to shangai, a big accident happened in the raod and no cars could go to the other side of the accident,>... Read more »
We are very satisfided from all the services provided to us. We specially thank you for choosing such intresting places to go and for the extraordinary guides we had during our stay in China. We enjoy all our stay and learned a lot about Chinese people>... Read more »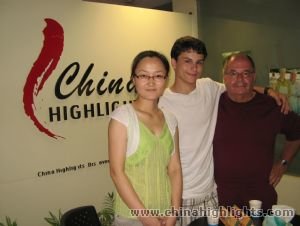 We really enjoyed Guilin and the river tour, which were the highlight of the trip for us.The guide in Hangzhou was particularly knowledgeable and nice and drivers in all cases provide a safe, comfortable experience >Read more »
Client:
Horacio
Tour Dates:
June 25, 2010 - July 18, 2010
Tour Title:
24 Days Hong Kong, Beijing, Xian, Yichang, Chongqing, Yangtze, Lhasa, Chengdu, Guilin, Hangzhou, Shanghai Tour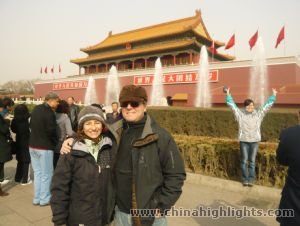 I'd like to congratulate you because of your excelent job in the organization and supervision all along the tour. >Read more »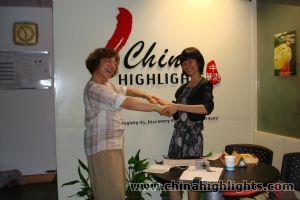 Dear Candy
We returned from our journey happy to be back home, and happy for having lived such experience.
I must tell you I am so glad to visit Longji terraces. It was one of the more beautiful places we have ever seen. In the tour>... Read more »