China Tour Feedback from Greece Customers
We collected the feedback from our Greece customers about their experiences in China, including the ratings and comments on attractions, guides, activities, hotels and food in China cities.
Would you like to look at what tour previous customer tours have recommended? If you basically like what you see you can choose to customize it to get just what you want.
Category
Year Uploaded
Customers' Home Country
Travel Advisor
Search Feedback
I want to congratulate you for the excellent choice you have done to choose so conscientiou, helpful and polite employee >Read more »
I hope you are well.I want to thank you for the very well done organiced excurcion in minorities.Lala was very helpful guide. >Read more »
I would like to thank you for the great time that you offered me during my (very) brief stay in Beijing. Everything was reatly organized and scheduled. I also appreciate the flexibility of the program as well as the availiablity of proposed things to do by>... Read more »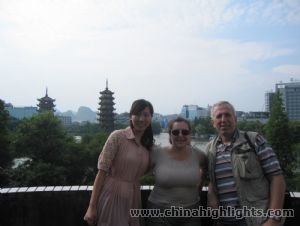 We have a deal!Thank you for your prompt answer.You have been extremely helpful and quick.Thank you for your kind assistance to plan our itinerary. >Read more »
Client:
Dimitrios
Tour Dates:
May 7, 2012 - May 31, 2012
Tour Title:
25 Days Guangzhou, Guilin, Xian, Yichang, Yangtze, Chongqing, Chengdu, Lhasa, Shigatse, Beijing Tour
The next day was amazing. The places we went were absolutely fantastic and the guide spoke very well english so we had very good conversations about China in general, education, health system housings etc. She was very good. The food was not good but that>... Read more »
Dear Elaine
Sorry for being a little bit late in replying this, but it's only a week I returned to Greece and home and many things were waiting here after being absent for a whole month. I had a great time in China and the tour was very good.>... Read more »
Dear Ryan,
Already back in the office, but it seems we've been away for months ! I would like to take this opportunity to thank you for everything and to express our special thanks both to Betty and Lee, especially though to Betty - as we had a>... Read more »