China Tour Feedback from Kuwait Customers
We collected the feedback from our Kuwait customers about their experiences in China, including the ratings and comments on attractions, guides, activities, hotels and food in China cities.
Would you like to look at what tour previous customer tours have recommended? If you basically like what you see you can choose to customize it to get just what you want.
Category
Year Uploaded
Customers' Home Country
Travel Advisor
Search Feedback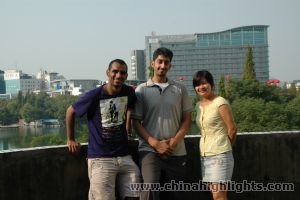 Dear Delia,
How are you? I hope you are fine.
We just came back to our country, so I would like to thank you personally for the generous hospitality we got upon arriving to your office. Meeting you was an additional reason for us to like>... Read more »
Hello Sunny,
I hope you are well, too. We are doing fine; we loved our trip to China.We really liked most of the places we visited. Certainly the Wall is really impressive, and the Forbidden City. We also liked the Lama Temple, which we visited>... Read more »