China Tour Feedback from Latvia Customers
We collected the feedback from our Latvia customers about their experiences in China, including the ratings and comments on attractions, guides, activities, hotels and food in China cities. Would you like to look at what tour previous customer tours have recommended? If you basically like what you see you can choose to customize it to get just what you want.
Tour date: May. 15 2011 - May. 25 2011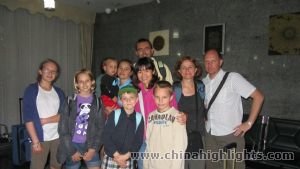 Lily had umbrellas for us waiting in the morning, she bought enough for all of us. renting from the hotel would be more expensive. She walked around Yangshuo to find a laundry shop that will clean our clothes fast enough, or found places to buy apple juice for the baby(same for Johnny). Lily taught us few Chinese sayings and was checking on us and kids if they remembered that. at the end of the day we had an overview of the day - that was entertaining and useful.
read more
Tour title: 11 Days Beijing, Xian, Guilin, Yangshuo, Shenzhen, Hong Kong Tour
Tour date: Oct. 15 2010 - Oct. 24 2010

The trip was great. The most impressive attractions are the Yellow montains and Silk factory . Our tour guide Suki, she was kind, pacient and had energy to answer to our questions. We do enjoyed her company. Leon also was very good and took un excellent care about us.
read more
Tour title: 10 Days Shanghai, Suzhou, Huangshan Tour