China Tour Feedback from France Customers
We collected the feedback from our France customers about their experiences in China, including the ratings and comments on attractions, guides, activities, hotels and food in China cities.
Would you like to look at what tour previous customer tours have recommended? If you basically like what you see you can choose to customize it to get just what you want.
Category
Year Uploaded
Customers' Home Country
Travel Advisor
Search Feedback
The tour in Tianjin went very well. The guide was very nice and (that was unexpected) spoke excellent french, overall it was very enjoyable >Read more »
Client:
Jean-Yves
Tour Dates:
April 30, 2011 - April 30, 2011
Tour Title:
1 Day Tianjin Tour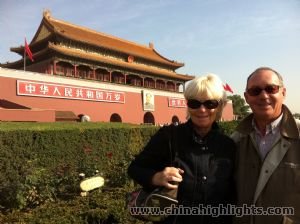 All the tour had a very good organization and good quality. Our contact GRACE WANG has always given us good informations and has managed very professionally our tour delayed one week later because visas in late. Guides speaking French were very good. >Read more »
I am writing to let you know how much we enjoyed our trip to Beijing, Shanghai, and Xian, and how much we enjoyed all the travel arrangements you made for us. The trip went very smoothly thanks to your careful planning and I have already recommended China>... Read more »
Cindy has been very good to work with. We depart for our trip tomorrow and look forward to our first visit to China. I would like to thank Cindy for the nice job she did on our trip itinerary. She has been very prompt and fast with her responses to my>... Read more »
Dear Michael,
We are back in France safely. We think the Terra Cotta Worries in Xian was the most memorable attraction we visited. All the hotels were very comfortable. Special mention for the Citylion in Xian and the Royal Palace in Haining.>... Read more »
Dear Eva,
I would like to start off by thank YOU sincerely for a wonderful experience. I was SO impressed with your reception, professionalism, and fast efficient service. Thank YOU so much !!! !
The Terracotta Soldiers were the>... Read more »
Dear Sunny,
The travel was very nice and I would like to inform you that the service of China Highlights has been very very professional since the beginning.
Thanks
Manuel
>
Read more »
Dear Rebecca,

we had a wonderful time in China. Your country is really beautiful. We were very pleased to meet Vivianne who was a perfect guide for our family. Our last meal in Guilin was one of the highlights of our trip! Many thanks for the>... Read more »
Dear Mr FU Jean,
Thanks for your e-mail , the most memorable attraction we visited is the River -li Cruise,Our guide is very competent , he take us many interesting explanations. We go into only one hotel , one regret no buffet lunch>... Read more »
Dear Sunny,
The Yangtse River Cruise was the unforgettable attraction of our trip. In Guilin, HE LE as 'Renaud ' was very friendly, competent, I think he make our Guilin stay a very lasting souvenir. I would say that WU Wei as 'Sabine' was very>... Read more »
Client:
Emile
Tour Dates:
July 7, 2008 - July 27, 2008
Tour Title:
21 Days Shanghai, Chongqing, Yangtze, Yichang, Wuhan, Guilin, Yangshuo, Guangzhou, Shenzhen, Macao, Hong Kong Tour