China Tour Feedback from Germany Customers
We collected the feedback from our Germany customers about their experiences in China, including the ratings and comments on attractions, guides, activities, hotels and food in China cities.
Would you like to look at what tour previous customer tours have recommended? If you basically like what you see you can choose to customize it to get just what you want.
Category
Year Uploaded
Customers' Home Country
Travel Advisor
Search Feedback
We were very content with our last guide in Shanghai, except for the fact, that we had to go through the expo on our own. But otherwise he was very knowledgeable, understood our wishes (for bookstores and museums) and special conditions, and was quite>... Read more »
it was wonderful. I enjoyed the cruise tremendously. The landscape, the nice boat, the excellent travel guides on the boat and for the excursions, and your organization. Everything worked meticuously. Thank you very much.I will use your company for future>... Read more »
Hallo, mein Name ist Alois, das ist meine Frau Youngsil, wir kommen aus Deutschland und sind jetzt erstmal als tourische Gruppe nach china. Ich war vor 14 Jahren aus gesch?ftlichem Grund nach Peking und Shaoxing.
Wir sind für 4 Wochen hier>... Read more »
All the transfers, tours, guides and bookings worked out perfectly!! The whole trip went so smoothly and all our guides were extremely friendly, helpful and informative. So, thank you for arranging everything and helping us with the fine tuning of our>... Read more »
Key to the success of the trip were both our tour guides Cindy and Sally and the driver who were extremely nice and attentive. >Read more »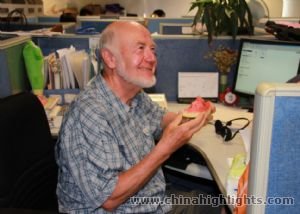 It is my heartfelt desire to tell you that I would like to say thank you very, very much to Candy Wei for having done an excellent job on organizing our journey through China,She has been very helpful and very patient and responded to all of our wishes. I>... Read more »
Client:
Goetz
Tour Dates:
June 20, 2010 - July 9, 2010
Tour Title:
20 Days Taizhou, Beijing, Xian, Xining, Lhasa, Shigatse, Chongqing, Yangtze, Yichang, Wuhan, Guilin, Yangshuo, Nanjing Tour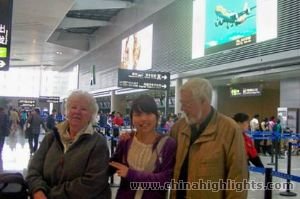 We would also like to thank you very!!!! much for the efficient and thorough organisation of our (third) journey with China Highlights. Speaking with other Westerners in China about services and guides of other Chinese agencies we found that China>... Read more »
Client:
Klaus
Tour Dates:
May 3, 2010 - May 25, 2010
Tour Title:
23 Days Taipei, Shanghai, Huangshan, Shenzhen, Xiamen, Guangzhou, Zhangjiajie, Changsha, Kunming, Dali, Lijiang, Shangri la Tour
Last, but not least, I want to say to you: Dear Nancy, thank you very much - You did a great job!!! All the things you managed for us went well and we enjoyed the helpful and friendly stuff of Chinahighlights, too! Have a good time. >Read more »
The tour guide in Beijing was definitely the best, not only in terms of english speaking abilities, but also in terms of friendlyness and overall attitude! She was great! Our tour guide in Shanghai was definitely the best looking! It was very good that our>... Read more »
thank you once again for your help in organizing the our China Trip! We were very satisfied with the cruise in general and appreciate your help in particular. The taxi transfer to the cruise worked smoothly and the cruise itself was an enjoyable part of our>... Read more »