China Tour Feedback from Indonesia Customers
We collected the feedback from our Indonesia customers about their experiences in China, including the ratings and comments on attractions, guides, activities, hotels and food in China cities.
Would you like to look at what tour previous customer tours have recommended? If you basically like what you see you can choose to customize it to get just what you want.
Category
Year Uploaded
Customers' Home Country
Travel Advisor
Search Feedback
We have a very wonderful moment in Shenzhen. You have arranged a great tour and we have enjoyed very much. Thank you for your kindness. >Read more »
The most pleasant time were in Lijiang, the hotel is beautiful, the hotel location perfect, the guide also very helpful.One again thank you to help us arrange the holiday. >Read more »
Should next time we are travelling to China again, which I am thinking to visit Chiu Chai Kow next Spring/Summer time, I would consider to tour under your arrangement again. And of course, we will tell our relatives, friends and colleagues to consider>... Read more »
I like Xian and my mom likes Shanghai. The Bicycle in city wall and toaboggan in Great Wall are the highlights .Our tour guide Burney in Shanghai was great. Because he`s very patient to my mom. >Read more »
I am fine thank you, and I also had lots of fun during our last trip with China highlight. Thanks. >Read more »
Dear Jane,
I just want to tell that the guide and driver were excellent! Not only Amy really knows her way around Dalian and very knowledgable, but also good in delivery, on time, proper, etc. Kent, the driver, is also good driver, know the way around>... Read more »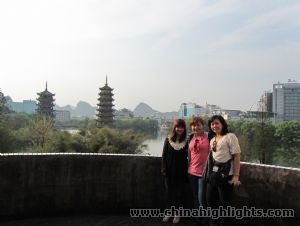 During our free time, we go to several market like the night market near our hotel in Guilin. There, we can see local people's favourite food and their life style. The guide recommeded an attration in Yangshuo, surprisingly the show is done by more than 600>... Read more »
All the attractions were memorable. I like the Captain's Welcome Cocktail Party most. >Read more »
Thanks a lot for your wonderful arrangement and we had a wonderful and unforgettable experiences and memories. >Read more »
Hi Coco,
Thanks for your e-mail and all the help you provided to both us and our family.Our trip to Beijing was wonderful and China Highlights made it even better for us.
For me, Lama Temple was the best attraction druting the>... Read more »