China Tour Feedback from New Zealand Customers
We collected the feedback from our New Zealand customers about their experiences in China, including the ratings and comments on attractions, guides, activities, hotels and food in China cities.
Would you like to look at what tour previous customer tours have recommended? If you basically like what you see you can choose to customize it to get just what you want.
Category
Year Uploaded
Customers' Home Country
Travel Advisor
Search Feedback
Our most memorable event was the actual boat ride, sitting on the bow and watching the river flow by. All the activities were excellent, especially the three lesser gorges. The food and activities on board were excellent. >Read more »
Your tourist guide (Irene) and driver were exceptional in making our tour an interesting and well presented one. She was very informative and the driver was very patient. Water was provided for free when we got in the car as the day temperature was in the>... Read more »
The guides were all good. Tashi in Tibet was excellent. >Read more »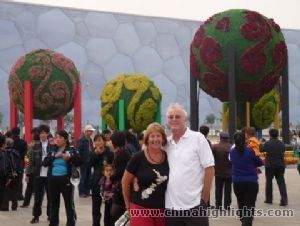 Hi Candy,
When we first made the decision to travel to China during our 4 week holiday we spent many hours researching and asking advice from people who had already been on holiday in this area. As we heard some of the stories about getting lost,>... Read more »
Hi Jean,
Firstly I wanted to thank you for your flexibility regarding our trip. We appreciated this a lot, given we have a toddler and did not have that much time to spare.
Coca (Zhang Xin Xin) was AMAZING, both in her flexibility>... Read more »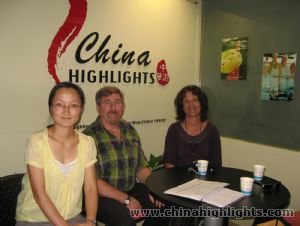 Hi Grace,
I would like to begin with complementing China highlights Grace on an excellent job on organizing and arranging the itinerary for our memorable Time in China.
Our itinerary was for 32 days that covered a greater proportion of>... Read more »
Client:
Colin
Tour Dates:
August 22, 2009 - September 22, 2009
Tour Title:
32 Days Hong Kong, Beijing, Datong, Wutaishan, Taiyuan, Pingyao, Xian, Lhasa, Chongqing, Yichang, Yangtze, Wuhan, Hangzhou, Huangshan, Shanghai, Guilin, Yangshuo, Guangzhou, Hanoi Tour
Dear Delia,
In all honesty this is too hard for us listing the most memorable attraction we visited. We asked ourselves about highlights while we were still in Shanghai and there were so many – food, the people, the history.>... Read more »
Hi Karen
We are back home safely after a wonderful time in China. We are slowly returning to normal life in New Zealand and have yet to fully reflect on the trip. With every holiday we have taken there have been things which did not>... Read more »
From Maria-Anna, Reinhold, Bailee and Bonnee Jung New Zealand
26. January 2009
Management for China Highlights ( copy to Candy ) We have been home for just a few weeks. Our daughter is doing well. Now that we all had a rest we can finally write>... Read more »
Dear Karen,
We thoroughly enjoyed our holiday in China, it is a very beautiful country and nearly all of the guides were very keen to pass on any information about the places we visited. We especially enjoyed the Mountain Rice Paddy fields and also>... Read more »