China Tour Feedback from Philippines Customers
We collected the feedback from our Philippines customers about their experiences in China, including the ratings and comments on attractions, guides, activities, hotels and food in China cities.
Would you like to look at what tour previous customer tours have recommended? If you basically like what you see you can choose to customize it to get just what you want.
Category
Year Uploaded
Customers' Home Country
Travel Advisor
Search Feedback
The tour itinerary is quite good.The most memorable attraction is Jiuzhaigou national park. As per the guide, I would pick Joy from Chengdu. >Read more »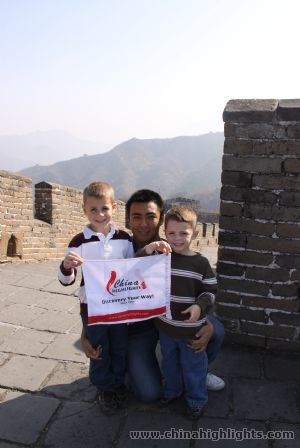 Dear Carol,
Hi This is Chris Rourke, my assistant Thea Pabillore booked our trip to China in late October, but I thought it would be better if we responded directly to your questions. In short, we had a wonderful time and each of our guides>... Read more »
Hi Tina !
Our visit to China was a memorable one. I thank you for that. We were all satisfied with your service and the tour guides you gave were all good. I have recommended you to my friends in fact i have a friend who will>... Read more »
Dear Delia,
Thank you for being so accommodating to my inquiry. Hope we could have the chance of meeting you in person.
I think the GREATWALL OF CHINA is the most memorable part of my trip, and Cathy & Katy provided us with many helpful>... Read more »
Client:
Wilbert
Tour Dates:
September 10, 2009 - September 15, 2009
Tour Title:
6 Days Beijing Tour
To China Highlights and Carol Wang,

Thank you very much for all your help and a wonderful vacation! We really enjoyed ourselves.

Our guide in Guilin,Ann was outstanding. She was a wonderful tour guide. Her English>... Read more »
Hi Grace,

It was a memorable trip we had of Guangzhou. My husband and I travel a lot - Europe, North America, Canada, Asia and my home country and we always savor the beauty of the tourists spots?and histories of the countries we visit.>... Read more »
Dear Michael,
Thank you very much for the Christmas card you sent - I got it when we came back from the Philippines/Hong Kong/Macao trips last Jan. 05, 2009. I wish you the best for the year 2009 and beyond; to your company and associates as well. Our>... Read more »
Sunny,
Thank you so much, Sunny, for making my nephew's stay in Shanghai a very memorable one. Thank you too for your quick action and refund for his unused Hangzou tour last Sept.2, 2008. I am very impressed with your efficiency and professionalism.>... Read more »
Dear Sunny,
Just want to say thank you for patiently assisting us from the start of our inquiries. We really did enjoy our trip. Michelle was so nice in giving us details of the places we went to., your belief as a chinese, we really learn>... Read more »
Hi Candy,
Here are some of my suggestions and observations from our recent trip:
The most memorable attraction that we visited must be the Great Wall of China. The children particularly enjoyed the attraction,>... Read more »