China Tour Feedback from Spain Customers
We collected the feedback from our Spain customers about their experiences in China, including the ratings and comments on attractions, guides, activities, hotels and food in China cities.
Would you like to look at what tour previous customer tours have recommended? If you basically like what you see you can choose to customize it to get just what you want.
Category
Year Uploaded
Customers' Home Country
Travel Advisor
Search Feedback
It was worth it to book the tour with you as it has been very easy and with prompt responses every time we have asked for something. Your Agency was recommended by one Spanish friend that used to live in Shanghai last year . He told us that you work very>... Read more »
Dear Tina,
We enjoy tht tour very much. The most memorable visits were: Baji dong village, Ping Zjong market and Kongbai village. None of them were in the original itinerary. We also highlight Chengyang bridge and village. The visit to a farmer's>... Read more »
Client:
Xabier
Tour Dates:
November 14, 2009 - November 22, 2009
Tour Title:
9 Days Beijing, Guilin, Yangshuo, Longsheng, Sanjiang, Zhaoxing, Congjiang, Basha, Xijiang, Guiyang Tour
Dear Jean,
Thank you for helping us to help you. I really enjoyed all of them, I cannot almost decide which one caused a higher impression on me. If I have to choose, I would say the Great Wall and, maybe surprisingly, the Muslim Quartier in>... Read more »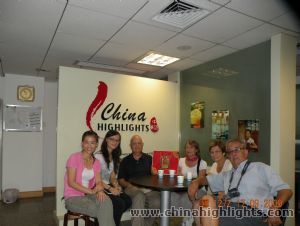 Client:
Jaume
Tour Dates:
September 5, 2009 - September 23, 2009
Tour Title:
19 Days Beijing, Datong, Taiyuan, Xian, Wuhan, Yichang, Yangtze, Chongqing, Guilin, Hangzhou, Yellow Mountain, Shanghai Tour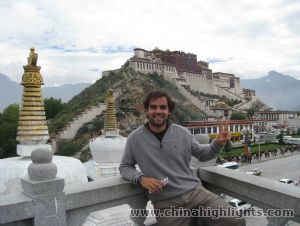 Dear Delia,
Thanks for being such a nice person and my best guide all the way in China.
You have a friend in Spain!
Emeishan and JiuZhaiGou (Sichuan), Lake Namtso (Tibet) were the most memorable attraction you visited; both of the>... Read more »
Dear Virginia,

Just arrived yesterday from China!!

It's been an awesome trip and I've been able to know part of your country and ancient culture.
Regarding to your questions below, I must say that everything was perfectly>... Read more »
Dear Michael,

Today is my first working day after my holidays and I am really very sad... I enjoyed very much my time in China and one of the reasons was because our fantastic guides. Actually, I'm very happy for your collaboration>... Read more »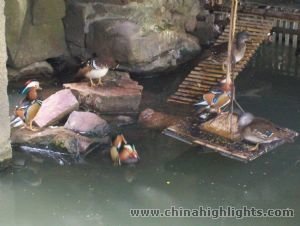 Dear Rebecca,

I had a wonderful trip with China Highlights.I think my most memorable experience was Mt. Huashan. However, my most fun attraction was lunch with the local family at Hutong in Beijing.
I really enjoyed all my>... Read more »
Dear Sunny,
We are very satisfy about our tour organised by chinahighlights around your country, we have been able to discover how interesting and different is depending on the territories, cities, villages,… In general we are not complaint>... Read more »
Client:
Jaume
Tour Dates:
August 24, 2008 - September 13, 2008
Tour Title:
21 Days Hong Kong, Guilin, Longsheng, Sanjiang, Zhaoxing, Rongjiang, KaiLi, Guiyang, Chongqing, Yangtze, Yichang, Shanghai, Xian, Beijing Tour
Dear Karen: Here I send you all the answers to your questions, and our feelings about the China tour. The shights we enjoyed the best are The Great Wall and Terracota Warriors. Both of them are so impressive and magnificent. We also liked a lot all the>... Read more »