China Tour Feedback from United States Customers
We collected the feedback from our United States customers about their experiences in China, including the ratings and comments on attractions, guides, activities, hotels and food in China cities.
Would you like to look at what tour previous customer tours have recommended? If you basically like what you see you can choose to customize it to get just what you want.
Category
Year Uploaded
Customers' Home Country
Travel Advisor
Search Feedback
We are so impressed with our China Highlights trip and want to let you know what a wonderful job Nora did in helping us plan our ideal tour Nora was sohelpful in her suggestions and was so quick to respond every time we contacted her.She is outstanding>... Read more »
Michael Hu has assisted me in setting up a tour to mainland China. Thus far, I have been very pleased with his service. He has been very quick in answering my questions and attentive to my wishes. >Read more »
Client:
Ruth
Tour Dates:
May 27, 2013 - June 5, 2013
Tour Title:
10 Days Hong Kong, Guilin, Yangshuo, Xian, Beijing Tour
The Tour as well as the guides were outstanding. We will be certain to recommend China Highlights to all of our friends. >Read more »
our emails during the tour clearly expressed how much we enjoyed the China Highlights tour package, your excellent tour team and the professional care they each took to ensure our enjoyment and appreciation of your marvelous country! >Read more »
I must say, Jackie has made our stay in Beijing an extra special experience and has made us want to come back. We would take him with us to Xian and Shanghai if we could. >Read more »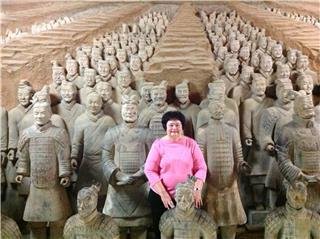 I think I have asked him so many questions and he is always polite and full of useful answers. I have enjoyed working with him. I have planned the trip entirely with him as to where we ladies wish to go and want to see. He is a great asset to your firm. >Read more »
Mr. An was everything one could ask for in a tour guide; informative with great communication skills, extremely flexible and patient. His dining choices were absolutely delicious and he never ordered too much or too little food. >Read more »
Nora, I just sent a note and picture to let you know how much we are enjoying all of your guides & colleagues. I will need to think about ways to encourage more US travelers to consider China Highlights!! >Read more »
Thank you so very much. You have been absolutely fantastic to work with, especially under the circumstances of clients booking the transfers while on the cruise ship. I will be recommending you & China Highlights to all of my clients traveling to>... Read more »
Thanks Ruby,
We had a wonderful trip! Both of our guides were outstanding. We are glad that we had a chance to meet you in Guilin. I've attached some pictures.
Warm regards,
Richard
>
Read more »