China Tours Feedback
Category
Year Uploaded
Customers' Home Country
Travel Advisor
Search Feedback
Our guide in Xian was Li Ying and she was excellent - very good language skills, and flexible with our sightseeing wishes. Our guide in Guilin/Yangshuo was Jenny and she was excellent also. She even ended up taking many photos for me on the Li River>... Read more »
Client:
Evalyn
Tour Dates:
October 8, 2013 - October 23, 2013
Tour Title:
16 Days Beijing, Xian, Chongqing, Yangtze, Yichang, Shanghai, Wuzhen, Nanxun, Guilin, Yangshuo, Hong Kong Tour
We had a blast! We really really had a good experience and you were great! Our guides were wonderful - even when we changed things around a bit. They were very accommodating If I return, I want to spend more time in Shanghi! >Read more »
I thoroughly enjoyed my Mutianyu tour immensely. Gao Meng (Momo) was an awesome guide & travel companion. She was fun and provided stimulating conversation. I would gladly do another tour with her if I had more time here. >Read more »
Client:
John
Tour Dates:
November 1, 2013 - November 1, 2013
Tour Title:
1 Day Beijing Tour
We've enjoyed our stay and also your arrangement. Mr. Yue (driver) was the same one that we had back in 2011 and Alex has been just great! He is really knowledgable and also very insightful. >Read more »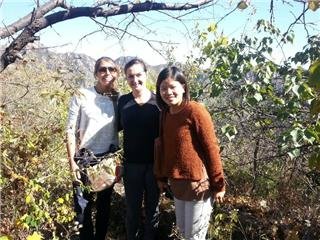 The highlight of my parents trip was having Daki as a tour guide in Beijing, she was excellent in every way, very friendly, very professional and a wonderful companion to my parents, They continue to speak of her lovely nature now, even after the end of the>... Read more »
I and 2 friends are returning to China and Carol is my choice of agents to assist with the planning. She is a great asset to the company and a joy to work with. I just wish I could meet her face-to-face to thakn her for her assistance! >Read more »
Client:
LINDA
Tour Dates:
April 11, 2014 - April 24, 2014
Tour Title:
14 Days Beijing, Xian, Jiayuguan, Dunhuang, Turpan, Urumqi, Kashgar, Chengdu Tour
All of them deserve extra credits. However, Ms Bright of Shanghai and Ms Sofia of Beijing are extraordinarily brilliant. Besides, Ms Carol Wang, our Tour Advisor, is an another brilliant officer who provided all the relevant details. We wish all of them>... Read more »
Client:
Dr.
Tour Dates:
October 7, 2013 - October 22, 2013
Tour Title:
16 Days Kunming, Guilin, Yangshuo, Chongqing, Yichang, Yangtze, Shanghai, Huangshan, Beijing Tour
Oscar was and our driver were very good to us and made things easy to do, they were always on time and willing to help us with things we wanted. Oscar was really helpful at the airport when we were trying to fly to Beijing, the airport was full of people>... Read more »
We are extremely thankful to china highlights for arranging a wonderful tour. Special thanks to you carol for accomodating us at the last moment and for patiently making all our changes.This trip would not have happened without your hard work. >Read more »
I have just posted on face book. Also personally thank you for being so helpful and quick to respond with any questions and all the organizing of our awesome trip. >Read more »