China Tour Feedback from Peru Customers
We collected the feedback from our Peru customers about their experiences in China, including the ratings and comments on attractions, guides, activities, hotels and food in China cities. Would you like to look at what tour previous customer tours have recommended? If you basically like what you see you can choose to customize it to get just what you want.
Tour date: Oct. 8 2013 - Oct. 26 2013

As Ana said, we are happy and grateful for your full services.It was great to meet China under Chinahighlights guidance.A million thanks to you and all the excellent guides who accompanied us.
read more
Tour title: 19 Days Hong Kong, Guilin, Yangshuo, Shanghai, Hangzhou, Suzhou, Xian, Beijing Tour
Tour date: Aug. 9 2010 - Aug. 12 2010

Dear Coco,
The whole trip was memorable.The forbidden city really made me go "WOW!The most impressed thing during my apare time is the street markets where the stands offered all sorts of food. I had never seen something like that before.
My tour guide in Beijing made suggestions on places we could visit during our free time. They were splendid suggestions.
Absolutely, we will recommend yout company to my family and friends.
Thank you for a wonderful trip.
Hans
read more
Tour title: 4 Days Shanghai, Beijing Tour
Tour date: Apr. 7 2009 - Apr. 26 2009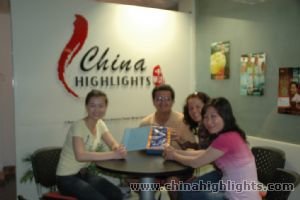 Dear Eva,

We just arrive May 9 at our house, very happy because we did a fantastic trip in China, we know many things, many places, thank you for all.
Many of the places that we visited were special, but there were two things we liked most: Lijiang and the Yangtze River cruise.
We liked the guides a lot, so professional and were always willing to help and we felt at home, they are the Lijiang and the Guilin guide, sorry but we dont remenber the names.
The hotel which stands out in service, location and comfort was the Bell Tower Hotel Xian. The Golden Dragon hotel in Kunming was not up to standards. The visit to the Grand View tower seemed a disappointment, at least we have the guide took us to the flower market that seemed interesting.

It would be advisable to inform passengers if they make a commemorative trip for us, is to take precautions with their different climatic changes in each area of the country, when we arrived Lijiang, we had very cold. Please take as suggestions, not criticism.

Now that I recommend to anyone doing this trip dont forget to visit Pingyao and Lijiang, which are cities that still retain their traditions, it's nice and interesting to see the big cities that are in a constant renewal and progress, but what makes a country, its traditions and give a lot of shame that a country like China with so much culture, lose all this.
I recommend not to miss the spectacle of Sanji Liu Impression in Guilin, fantastic, as in the Shanghai Era Circus was very good.
And dont miss to eat Pekines Duck,is so delicious.

Maybe I recommend too eat a typical dishes from China, but not all the time it was very hard for our stomach, it was so spicy.

And here in Peru always wil be someone to wait for you.

Maria

read more
Tour title: 20 Days Beijing, Pingyao, Taiyuan, Xian, Lijiang, Kunming, Chengdu, Guilin, Yangshuo, Chongqing, Yangtze, Yichang, Shanghai Tour