China Tour Feedback from Philippines Customers
We collected the feedback from our Philippines customers about their experiences in China, including the ratings and comments on attractions, guides, activities, hotels and food in China cities.
Would you like to look at what tour previous customer tours have recommended? If you basically like what you see you can choose to customize it to get just what you want.
Category
Year Uploaded
Customers' Home Country
Travel Advisor
Search Feedback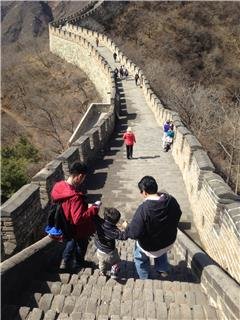 We enjoyed our trip so much! Our wonderful local guide, Jerry. >Read more »
we had a wonderful time. Steven was a very good tour guide. Thank you so much for all your help... we really appreciate it. >Read more »
Hello! Yes we had a great time in China..The shopping was crazy.Bruce was very kind and speaks english well.I will contact you again in our future trip.Thank you so much for the help.
>
Read more »
Hi Candy,
Something about our tour, seeing the Great Wall of China is the most memorable memory and shopping at pearl factory and silk market as planned is memorable too. Both of our guides, Rita and Anne were outstanding because they opened>... Read more »
Lily Guo, our Travel Agent, was very helpful. She was always prompt in answering all our requests; Our tour guide, Johnny Li, was very friendly, helpful and full of interesting information.. >Read more »
We had a grand time in Beijing!!!! Icy was great, she is very nice and efficient!!!! Although we find the drivers drive abit fast ..........:-) But no worries overall , it was good, and hopefully we will go back and will inform you if we have other sights>... Read more »
I greatly appreciate the times when you are calling JEFF ( our tour guide) to check on us if we are doing great. It feels personal that you are not doing that only for your company but for yourself as well. >Read more »
Ms. Karen Yang is our Trip Advisor, and I just want to let you know how GREAT she is in doing her job. She goes beyond her means just to address our needs and requirements. I am looking forward to continue working with her to make this Beijing trip a very>... Read more »
If you have a grading system for your travel advisors I would like to give DORIS a grade of 10/10 >Read more »
Just taking a moment to inform you of how efficient and accommodating an agenct Nora Ou is. She has been immensely helpful in planning my China trip and has been polite, prompt, and patient in answering my queries. >Read more »