China Tour Feedback from Portugal Customers
We collected the feedback from our Portugal customers about their experiences in China, including the ratings and comments on attractions, guides, activities, hotels and food in China cities.
Would you like to look at what tour previous customer tours have recommended? If you basically like what you see you can choose to customize it to get just what you want.
Category
Year Uploaded
Customers' Home Country
Travel Advisor
Search Feedback
We had a wonderful time in Harbin and Mr. Thel was a very professional and caring tourist guide. We are very happy to have found China Highlights and you in particular, because we do feel we are in the best hands possible. >Read more »
Thank you for all ! Everything was perfect ! We are very satisfied with our trip ! Now we are in chengdu , and I already speak with Susan because we wanna do more things here .... And we gonna do with your travel agency ! >Read more »
I just want to thank You, and your team, for the excellent work, and I hope we will work together soon. >Read more »
China Highlights is excellent, up to now, excellent. >Read more »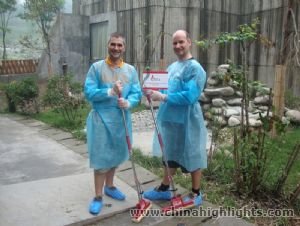 This is to say a huge THANK YOU for everything. This was probably our best trip and you were extremely important in making it so, with all your advice and suggestions. Thank you for your wonderful help and advice, for the excellent choice of hotels and>... Read more »
Client:
PAULO
Tour Dates:
May 30, 2010 - June 18, 2010
Tour Title:
20 Days Shanghai, Yichang, Yangtze, Chongqing, Chengdu, Lhasa, Gyantze, Shigatse, Beijing Tour
Dear Jean Fu
We are very pleased with our first voyage to China, with the program and the friendly and knowledge of the qualified guides we encountered.
The most memorable attraction we visited was the Forbiden City,>... Read more »
Dear Virginia

We can say that we are satisfied with China Highlights.

The most memorable attraction was Forbidden City while the visit to modern art centers (50 Moganshan Art Center … ) was the>... Read more »
Dear Sunny
It's been almost a month since we came back from Hong Kong and we finally found time to give you a feedback about our trip.
We absolutely LOVED it!!! Sanya is beautiful, the beach is very nice, our guide Angela was EXCELLENT,>... Read more »
Dear Michael
Please see bellow my service evaluation. I would lile to thanks your collaboration and emphasize the quality of your services. The tour guides in Beijing and Hong Kong were excellent. I have to say that during our trip we visited Beijing,>... Read more »
Hi Sunny,
Me and my friend's opinion of our trip to China and about China Highlights service can be summarised into three>... Read more »