China Tour Feedback from Turkey Customers
We collected the feedback from our Turkey customers about their experiences in China, including the ratings and comments on attractions, guides, activities, hotels and food in China cities.
Would you like to look at what tour previous customer tours have recommended? If you basically like what you see you can choose to customize it to get just what you want.
Category
Year Uploaded
Customers' Home Country
Travel Advisor
Search Feedback
Thank you very much Cecilia. My guide was very good. She helped me very much. >Read more »
First, thank YOU for all organization. Our trip was perfect. We loved China so much Hotels was excellent ! Lunch restaurants was perfect! >Read more »
We returned home with many beautiful memories from GUILIN. Thanks many times to Miss Lussie Lu. She was always ready to make our travel pleasant by arranging a new tour and highlighting us also coming to visit us in our hotel With beautiful gifts. >Read more »
We want to send all our thanks to Ms Lussie Lu who handled all our requests very quick and kindly. We feel very happy to travel China once more. Many Thanks to CHINA HIGHLIGHTS. >Read more »
The most memorable attraction is the Forbidden City. Jerry is the most outstanding guide during the tour. He did his best to fulfill the demands of a large group. The drivers let us feel safe and comfortable. Both hotels' locations were fine and they were>... Read more »
Thanks for all arragements. Our trip was good . All over, we enjoyed the tour very much. Thank you again. >Read more »
I am writting to say how impressed I am with your representatives Service Simon Huang. He was very quick to respond to e-mails and found him to very informative. >Read more »
We all also thank Mr. Sean, the tour guide, for his warm welcome and interest during our trip. He likes his job and tries to do his best. The driver was also good. >Read more »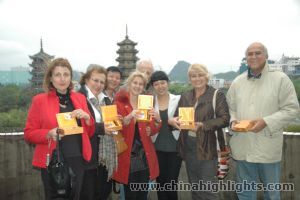 All our friends were very satisfied with the hotels, their location, the way the tours were organized so efficiently, the sights that were chosen... >Read more »
Dear Michael,
We are now safely backed home. We have returned with such a positive impression of China that we have been telling our friends all about it.
We were impressed not only with all the history but also the current economic>... Read more »