Wooden Rod Festival
Celebrated: Feb.&nbsp14
Location: Lijiang
Lijiang Wooden Rod Festival is a traditional trade fair of the Naxi nationality, annually held in the Old Town of Lijiang. It brings together people from various nationalities. Nowadays the festival has functions of commerce, culture preservation, and entertainment.
Features
In the heart of the Yunnan tourist area
Unique Naxi national customs
Rich and varied goods for trade>
Fancy national handicrafts
Tasty local specialties
Goods on Sale
During the festival the locals, especially farmers and businessmen, get together in the Wooden Rod Fair with a variety of goods. The fair sells everything from farm tools and various flowers to sweets and toys for children. The list of goods involved in this fair is growing longer by the year.
Local Specialties: fresh flowers, dried flowers, ginger sugar, white tea, Pu'er tea, essential oils extracted from plants and flowers, silk shawls, air-dried yak meat, spirulina, and so on.
Special Scene in the Fair
If you walk along the fair street, you will see a great amount of handles for spades, shovels, and hoes, rolling pins, carrying poles, and any other wooden rod-shaped goods you can imagine. That is why people call it the Wooden Rod Fair.
History
In their ancient agricultural society, Naxi people in Lijiang often celebrated a whole year's harvest in the first month of the Chinese 'agricultural' calendar, so as to carry out trading activities. Later the celebrations gradually become a regular, scheduled festival to hold large trade and cultural activities with more and more people from different nationalities getting together.
Cost: ¥80/ person (it goes towards the maintenance of the Old Town of Lijiang)
How to Get There
Lijiang City is located in northwest Yunnan Province, 525 kilometers from Kunming city.
By Plane: Planes from Kunming Changshui International Airport (昆明长水国际机场) to Lijiang Airport (丽江机场) take off at 07:05, 11:35, and 15:00. The cost ranges from 400 yuan to 900 yuan. The trip takes 50 minutes.
By Train: Trains from Kunming to Lijiang start off at 10:00, 20:53, 21:58 and 22:28. A hard seat costs 89 yuan and hard sleeper about 150 yuan. It takes about 9 hours.
By Bus: You can easily take a bus at Kunming Bus Station to Lijiang. The 10-hour trip costs about 160 yuan.
Clothing
The average low temperature in Lijiang is between 0°C and 15°C. Remember to bring a thick coat to keep warm at night.
Nearby Attractions
Yulong Snow Mountain, the Ancient Tea Horse Road, Black Dragon Pool, Tiger Leaping Gorge, Mufu Wood Mansion, Lugu Lake, Lashi Lake.
Recommended Festival Tours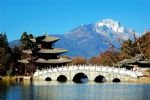 Questions and Answers About Wooden Rod Festival
April Offer $25 Coupon
Send your inquiry before Apr. 30, 2014, and we will email you a $25 coupon.
The coupon is valid till Dec. 31, 2014, for paying tour packages worth $250 or up.
The coupon cannot be used for paying flight tickets, train tickets, hotel rooms and day trips.
Travel Advice or Question? Ask us here