The Grand View Garden Fair
Grand View Garden, known as Da Guan Yuan in Mandarin, is a garden straight out of the pages of "A Dream of Red Mansions", a classic Chinese novel. It also is the site of one of many Beijing festivals that are part of Spring Festival celebrations.
Garden Recreated in 1980s
Grand View Garden was created in the 1980s, with features based on the the 18th century novel. The TV series "A Dream of Red Mansion" was filmed there, amidst the artificial ponds, carefully landscaped gardens and palaces that cover 32 acres. The Beijing Red Mansion Culture and Art Museum is located on the grounds.
Festival Boasts Many Activities
A variety of activities take place during the festival. Visitors should go early so they won't miss the big parade, a scene from the novel, that starts the day. The parade is led by Yuanchun, who is returning home after becoming an imperial concubine.
Entertainment inside the garden includes singers, dancers and acrobats taking the stage. Hungry visitors can munch on a variety of snacks as well as play Chinese-style carnival games.
Travel Essentials
The festival is a popular event, drawing large crowds. It's a good idea to go early to see everything before it gets too packed.
Include Grand View Garden Fair in a Beijing tour with China Highlights around Chinese New Year for a truly memorable cultural experience.
Da Guan Yuan is located at 12 Nancaiyuan Street, Xicheng District, in southwest Beijing. Buses 474, 122, and 84 stop at Daguanyuan, while Te 12 stops there and at Daguanyuanximen.
Recommended Festival Tours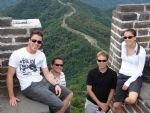 Questions and Answers About The Grand View Garden Fair
Send your inquiry January 1 – February 28, 2014, and we will email you a US$30 coupon.
The coupon is valid till December 31, 2014, for paying tour packages worth US$300 or up.
The coupon cannot be used for paying flight tickets, train tickets, hotel rooms and day trips.
The coupon cannot be combined with any other coupons, promotions or discounts.
Travel Advice or Question? Ask us here