Beijing International Imported Food Exhibition
Celebrated: Apr.&nbsp26,&nbsp2014 to Apr.&nbsp28,&nbsp2014
Location: Beijing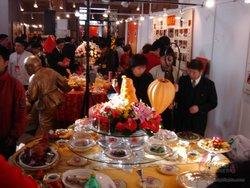 The Beijing International Import Food Exhibition (FCE) mainly displays the latest technology and products of domestic and overseas food exporters. The exhibition strives to create more opportunities of business cooperation for domestic and foreign food enterprises and traders.
In addition, the exhibition offers an opportunity to manufacturers, agents and distributors to display their products and corporate image comprehensively, in order that the vast number of consumers and producers can have a direct in-depth exchange platform. In this way, the integration of supply and marketing can be promoted.
Scope of the Exhibition
1) Exhibition area of imported foodstuffs:
Various countries' unique foodstuffs, nourishment, tourism foodstuffs, a series of edible oils, a series of drinks, wine, imported wine, beer, a series of candies, a series of biscuits, a series of chocolates, a series of puffed grains, a series of dried fruit, a series of preserved fruit, a series of meat products, a series of condiments, and so on.
2) Exhibition area of imported food additives and dosing:
Various food additives, food ingredients, plant extracts, functional food ingredients, and food processing agents.
3) Exhibition area of imported packaging and processing equipment:
Processing equipment of oil, garden products, drinks and grains; technology of cold storage; metal locators; biological fermentation technology; packaging machinery; packing materials; and other equipment relating to packaging and processing.
The Expense of the Exhibition
1) International standard exhibition booth:
3*3=9㎡. Domestic enterprises: 12,800 RMB per booth; foreign enterprises: 3,800 USD per booth.
2) Indoor space of the exhibition hall:
The minimum rent space: 36 ㎡. Domestic enterprises: 1,280 RMB per square meter; foreign enterprises: 380 USD per square meter.
Attention
Exhibition booths with a double-faced front opening are charged at another 10% of the expense.
Specially designed spaces offer no exhibition appliances.
Exhibitors and their contractors should bear the administrative, water and electricity costs as charged by the exhibition hall.
Travel Information
You may want to combine your visit to Beijing International Imported Food Exhibition with one of our Beijing Tours, or book a Beijing Hotel for less with us.
Address: Beijing National Agricultural Exhibition Hall (full address: 16 Dongsanhuan North Road, Chaoyang District, Beijing) 北京-全国农业展览馆 (详细地址: 北京市朝阳区东三环北路16号)
Transportation: Take Bus 300, 302, 731 or 831 and get off at the station of Horse Creek (亮马河站); or take Bus 402, 405, 420, 421,701, 707, 718 or 801 and get off at the National Agricultural Exhibition Hall (农展馆站)
Telephone: 010-65096688
Recommended Festival Tours