Beijing International Long-Distance Running Festival
Celebrated: Apr.&nbsp2014
Location: Beijing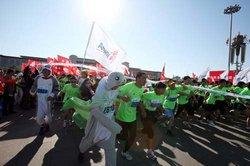 The Beijing International Long-Distance Running Festival is one of the grandest sporting events in China. The Festival is part of the continuing desire to create a healthy China and world. Each year, more-and-more people of the world participate in the festival.
History
This race has a 57-year history. The International Long-Distance Running Festival is the combining of the Beijing Spring Run, first held in 1956, and the Beijing International Run. In previous years, there have been around 12,000 entrants; in 2013, the number of runners should exceed this record with 20,000 participants.
Sponsored by international companies Amway and Nutrilite, the Beijing International Running Festival brings the world to China each year.
The Course
The course, which takes runners through some of Beijing's historic areas, starts in Tian'anmen Square and ends at Xianlong Stadium. There are two courses, one of 10 kilometers and another of 5 kilometers. Eight watering stations, set along the courses as a safety measure, should prevent dehydration and heat exhaustion.
Taking Part
If you want to run in the race, you must register to participate. Registration takes place either online or at on-site locations. There will be separate groups for men, women, boys, and girls. Minimum age to participate is 13. You may register as an individual or as a team.
The registration fees for Chinese individuals is 120 RMB (10 kilometer course) and 80 RMB (5 kilometer course). Foreigners pay 80 US and 50 US, respectively.
Related Reading
Recommended Festival Tours