Beijing International Peach Blossom Music Festival
Celebrated: Apr.&nbsp2014
Location: Beijing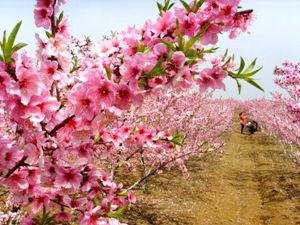 Beijing's Pinggu District is the world's largest peach blossom area which covers a land area of 220,000 mu (14,674 hectares). It was elected as one of the top ten destination in the world for viewing flowers.
Beijing International Peach Blossom Music Festival has been held in Beijing's Pinggu District for 14 years attracting numerous visitors from around the world.
Activities in 2013's festival include dancing, sports, folk customs, a romantic music week, and a romantic film week, and of course enjoying the smell and sight of millions of blossoming trees.
Travel Essentials
China Highlights specializes in tailor-making China tours. Check out China Highlights' popular Beijing tours.
If you are interested in touring Beijing to see the colorful peach blossom and breathe the fragrant air in Beijing's Pinggu District, contact us and we can arrange the tour for you based on your requirements.
Address: Pinggu District, Beijing
Price: free
Getting there: Take subway line 10 to Sanyuan Bridge (三元桥), then take bus 852 or 918 to Pinggu Fire Brigade (平谷消防队).
Recommended Festival Tours