Five Gods of Wealth Temple Fair
At Wuxiancaishen Temple (五显财神庙, 'Five Prominent Wealth Gods Temple') there are five gods of wealth enshrined and worshiped. It is an important activity for many old natives of Beijing to come to the temple to pray every year from the second day to the sixth day of the first lunar month.
Activities
Early on the morning of the second day of the first lunar month, people usually go to the God of Wealth Temple. They burn incense to pray for good fortune in the next year.
After burning incense, people usually buy some golden paper-cuts with the Chinese character "福" (fu), meaning good fortune, or "喜" (xi), meaning happiness, on them.
After worshiping you can also taste some local Beijing snacks in the temple.
History
According to historical records, the five gods of wealth were five brothers with the surname Chai. The five brothers were hunters, and they always gave away the leftover meat of the wild animals they hunted to poor people, and they usually gathered herbs to cure wounds and treat illnesses for people. They were so admired by people that they were named immortals after they passed away, and were called 'the five prominent gods of wealth'.
Travel Information
Visit Wuxiancaishen Temple as part of a China Highlights Beijing tour, especially recommended if you are traveling around Chinese New Year.
Address: Southwest of Liuli Bridge, outside Guang'anmen, Xicheng District(北京西城区广安门外六里桥西南)
Transportation: Take bus 6, 38, 42, 46, 57, 109, 122, 201, 687, 340, 410, 477, 613, 620, 650, 691, or 715 to Guang'anmen (广安门), and then walk about 500 meters.
Further Reading
Recommended Festival Tours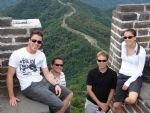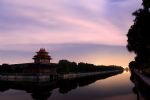 Questions and Answers About Five Gods of Wealth Temple Fair
April Offer $25 Coupon
Send your inquiry before Apr. 30, 2014, and we will email you a $25 coupon.
The coupon is valid till Dec. 31, 2014, for paying tour packages worth $250 or up.
The coupon cannot be used for paying flight tickets, train tickets, hotel rooms and day trips.
Travel Advice or Question? Ask us here