Butterfly Festival
Celebrated: May.
Location: Dali
The Butterfly Festival is a folk entertainment custom among the Bai people and it is popular in the area of Dali, Yunnan. It is held beside Butterfly Spring, which is located at the foot of Nong Hill, where the largest number of butterflies in the area are. Some of which are as big as palms of hands and some are as small as coins.
Activities
Around this day, the nearby masses go to enjoy the sight of the colorful butterflies, during which time they have picnics, talk about and play the ancient music of Dongjing, pray for good weather for the crops. And some young people take the opportunity to bill and coo, or find the person of their hearts, because of the romantic connotations of the Butterfly Festival.
The Legend of Butterfly Spring
Once upon a time, there lived a tyrannical king called Emperor Yu at the foot of the Cang Mountains. He learnt that a lady called Wengu was exceedingly beautiful, so he decided to make her his eighth imperial concubine. Thus, he captured Wengu and brought her into his palace.
Upon finding out, a lad called Xialang risked his life to sneak into the palace and succeeded in rescuing Wengu. When he realized Emperor Yu pursued the couple with his troops.
The next day, when their fellow villagers attempted to recover Xialang's and Wengu's bodies, they failed, but saw a huge bubble rise from the deep pond, inside which were a pair of bright-colored butterflies. And the two colorful butterflies rose and danced in happy circles. And thus numerous butterflies were attracted from all directions, and they had fun and circled over the pond. From then on people called the Bottomless Pond "Butterfly Spring".
Travel Information
A visit to Dali would be best combined with one of our Yunnan tours, or contact us to tailor-make a tour including the Butterfly Festival.
Address: At the foot of Nong Hill, Cang Mountains, west of the northern tip of Er Hai, Dali Prefecture, Yunnan
Transportation: 1) Take a minibus from the west gate of Dali or from Bo'ai Road (博爱路); 2) Take the scheduled bus from Xia Pass (下关) to Erhai Lake (洱海) and get off at Nong Hill (弄峰).
Entry: 60 yuan
Opening hour: 8:30am – 7:00pm
Recommended Festival Tours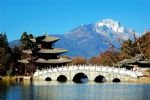 Questions and Answers About Butterfly Festival
April Offer $25 Coupon
Send your inquiry before Apr. 30, 2014, and we will email you a $25 coupon.
The coupon is valid till Dec. 31, 2014, for paying tour packages worth $250 or up.
The coupon cannot be used for paying flight tickets, train tickets, hotel rooms and day trips.
Travel Advice or Question? Ask us here