Cham in Tshurpu Monastery
Celebrated: May.&nbsp20 to May.&nbsp20
Location: Lhasa
The Cham in Tshurpu Monastery is held annually during the fourth month of the Tibetan lunar calendar. It commemorates the famous Indian monk Padmasambhava, who traveled to Tibet and neighboring countries in the 8th century to spread the teachings of Buddhism.
On the tenth day of the fourth month, Tibetan people travel to Tshurpu Monastery to watch the Lamas engage in a masked dance known as a Cham. The Lamas perform the Cham in celebration of Padmasambhava, who some regard as an emanation of the second Buddha.
The Lamas perform several traditional dances, including the dance of the eight manifestations of Padmasambhava, based on the eight forms he is said to have taken during his life. Each form represents a different aspect of his being, such as wrath or pacification.
How to get there: Take the mini bus that leaves from south of Johkang Temple in Lhasa between 7am and 8am. The mini bus returns to Lhasa around 3pm.
Recommended Festival Tours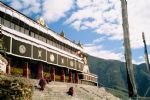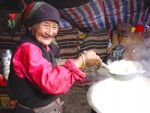 Questions and Answers About Cham in Tshurpu Monastery
Send your inquiry January 1 – February 28, 2014, and we will email you a US$30 coupon.
The coupon is valid till December 31, 2014, for paying tour packages worth US$300 or up.
The coupon cannot be used for paying flight tickets, train tickets, hotel rooms and day trips.
The coupon cannot be combined with any other coupons, promotions or discounts.
Travel Advice or Question? Ask us here