China International Sewing Machinery and Accessories Show
Celebrated: Sep.&nbsp25,&nbsp2013 to Sep.&nbsp28,&nbsp2013
Location: Shanghai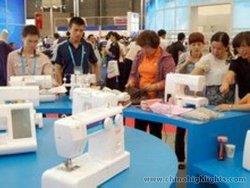 Venue: Shanghai New International Expo Center
China International Sewing Machinery & Accessories Show (CISMA) is the largest professional sewing equipment exhibition in the world, covering the exhibits from pre-sewing, sewing & stitching, after-sewing, CAD/CAM and accessories, fully displaying the whole chain of making clothes. Every session of CISMA will attract many international famous brands companies to display their new products, technology and idea. As for the advanced equipment, there are electric straight powered sewing machines, No-oil sewing machine, multi functional composite embroidery machine, High-grade cutting and ironing equipment and automatic processing units. The improvement in equipment will further improve the quality of clothes and will promote the product design and pipeline arrangement of clothing companies.
China International Sewing Machinery & Accessories Show serves as a window for displaying new products as well as a bridge linking upstream and downstream fashion industries, and it attracts famous-brand companies from all over the world to participate, including Duerkopp, Pfaff, Brother, Flying Horse, Oxima and Behringer as well as some domestic-brand companies such as Dahao and Shenbei.
China International Sewing Machinery & Accessories Show will be held again in Shanghai International Exhibition Center during September of 2013, and CISMA will still dedicate itself to develop more effective, more energy-saving and environmental protecting and more intelligent skills, making more contribution to promoting upgrading of fashion industry.