Chinese New Year's Eve Flower Market
Celebrated: Feb.&nbsp09,&nbsp2013 to Feb.&nbsp09,&nbsp2013
Location: Hong kong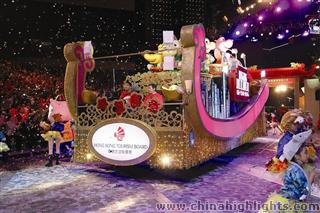 In Hong Kong and Macau, a major tradition for the Chinese New Year's Day is giving flowers, potted plants, and bouquets as gifts. A lot of significance is attached to this custom, and the various kinds of flowers given as gifts denote different wishes or signs. This tradition is almost as important as the Western Christmas tradition of giving gifts on Christmas Day or Christmas Eve. The residents of the two cities like and can afford very fresh flowers, so there are huge crowds buying flowers at the flower markets and flower shops. In Hong Kong, the crowds are especially heavy after people have their New Year's Eve family reunion dinner, and they scramble to be able to present the freshest flowers on New Years Day to the various important people in their lives. They are also out buying other gifts on Chinese New Year's Eve such as gifts, candy or special foods. The scramble can get intense. Though some people in mainland China, especially those who live in Guangdong Province, give gifts of flowers on New Years Day, giving flowers isn't as important a custom there as in these two cities. It is thought that gifts of fresh flowers and plants give good luck. So it is a part of how Hong Kong and Macau people celebrate Chinese New Year's Day.
Along with the desire to present very fresh flowers, another reason for the scramble of the crowds on New Years Eve is another tradition that stores close on New Years Day and for a while afterwards. The first three days of the Chinese New Year are legal holidays in Hong Kong. But the weight of tradition also dictates that shops should close and work should end and that everyone focus on family matters, reunions, important relationships, and religious matters at the temples and house shrines. Flower shops and stalls often stay open to even early morning hours, but the shops should be closed when the sun rises. So the shop owners may also be frantic about selling their stock of flowers and potted plants before dawn.
China Highlighs can help you customize a tour to celebrate the Chinese New Year as local Chinese do.
Location in Macau: There is a traditional Chinese New Year's Eve flower market at Tap Seac Square.
Location in Hong Kong: Big flower market locations with lots of stalls or shops are at Victoria Park on Hong Kong Island and the Mong Kok Flower Market in Kowloon.
Special Flowers and Plants:
?Tangerine trees are for fruitful marriages, goodwill, prosperity and good luck.
Kumquats: These fruits are particularly popular since? "kum" is Cantonese means gold.
Peonies are for prosperity.
Peach blossoms are for romance and longevity.
Lettuce are for wealth generation.