Dalian International Marathon
Celebrated: Apr.&nbsp2014
Location: Dalian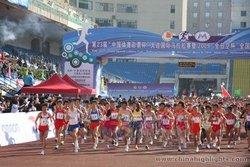 Venue: Gold Coast Nanhu Street, Dalian Golden Pebble Beach
Overview
Dalian International Marathon Race is one of the international standard marathon races listed by the International Road Run Association and the Road Run Committee of the Chinese Athletic Association. Since the first Dalian International Marathon Race was held in 1987, in which thousands of people participated, it has been held successfully 26 times and is one of the oldest races in China. At present, it is one of the oldest large national sports races that combines mass involvement with competitiveness, connecting healthy people with the disabled.China Highlights can help you desgin a tour to attend this event; or see our Sports Tours.
Planning a trip? Ask us here 800-2682918 (USA & CA)
86-773-2831999 (Int'l)
Q:
Steven
Asked on 2011-03-30
Reply
any kids can join
Hi Steven, Thank you for visiting our web site and your interest in our services. My name is Nora Ou. I am a travel advisor at China Highlights. It is my pleasure to assist you. Please kindly check below the Age Qualification: The players in Marathon and Wheelchair Marathon should be above twenty years old (born before April 30, 1991). The players in Half Marathon, Wheelchair Half Marathon, Marathon Relay should be above sixteen years old (born before April 30, 1995). The players in Mini Marathon should be above ten years old (born before April 30, 2001); the upper limit of the player number is 8000. Please visit the official website http://www.dlmls.org/main_en.jsp to get more detailed information. Nora Ou Replied on 2011-03-31
Q:
Nolte
Asked on 2011-03-07
Reply
Does anyone know what has been the winning times (or top times) for the 1/2 marathon? The race is not chip timed, but if anyone has been at the race in years past, maybe you can recall the winning times (men and women). Thanks!
I found the following information. They are data from the year of 2009. Men Marathon: 2 hours 15 minutes and 9 seconds Women Marathon: 2 hours 34 minutes Men Half Marathon: 1 hour 6 minutes and 9 seconds Women Half Marathon: 1 hour 13 minutes and 1 second Mia Yang Replied on 2011-03-14

Thanks for the info! Would you possibly paste the link where you found these results? (I have Chinese co-workers who can help me read if it''s all in Chinese) guest Replied on 2011-03-15
Q:
carmenza
Asked on 2010-11-26
Reply
Would you like to send me information regarding Dalian International Marathon in 2011.
Hello Carmenza, I checked the information for you online, there is not much information on the internet regarding for the 2011 event, you can visit our website:http://www.chinahighlights.com/festivals/dalian-international-marathon.htm for 2010 information. Lee Lee Li Replied on 2010-11-26