Dongba Fair
Celebrated: Apr.&nbsp23
Location: Lijiang
Every year, on the fifth day of the third lunar month, the annual Dongba Fair is held in Lijiang Jade Water Village, a settlement of the Naxi minority. It is a grand spectacle.
Main Festival Activities
On this day local Dongbasgo to Dongba Shi Luo Temple very early. They light incense burners and burn joss sticks to worship gods and their ancestors.
It is an opportunity for all Dongbas to show their talents and skills. Dongbas chant Dongba scripture and one-by-one do a Dongba dance in their own way.
Later they communicate Dongba culture with each other and learn from each other. They love their ethnicity and their folk cultures. They gather with a sense of ethnic identity, unity, and responsibility. They work together to preserve the ancient Naxi culture and carry it forward.
Festival Purpose and Benefits
The purpose of the annual Dongba fair is to preserve the Naxi minority's ancient and unique Dongba culture better and call all Dongbas together to carry out a traditional series of Dongba cultural activities. Activities include Dongba culture performances, culture communication, and Dongba culture study and research.
The fair gives all Dongbas opportunities to show what they have learned, share experiences, and discuss preserving their culture.
At the same time it offers a new hot spot for Lijiang's tourism industry, and promotes Naxi tourism's steady development with ancient, rich, and colorful folk activities.
See our Lijiang tours or contact us for free consultancy on China travel.
Recommended Festival Tours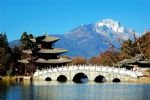 Questions and Answers About Dongba Fair
April Offer $25 Coupon
Send your inquiry before Apr. 30, 2014, and we will email you a $25 coupon.
The coupon is valid till Dec. 31, 2014, for paying tour packages worth $250 or up.
The coupon cannot be used for paying flight tickets, train tickets, hotel rooms and day trips.
Travel Advice or Question? Ask us here