Formula One
Overview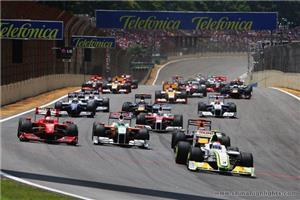 Formula One Chinese Grand Prix in Shanghai
F1 is the abbreviation for Formula 1. In China, it is called the Class One Formula Race. The cars, which are made according to the same formula, are called Formula race. Among those classes, the top one is Formula 1. At present, the popularity of the F1 can be compared with the Olympics and the World Cup. Now there are ten racing teams. Every race, there are 20 drivers attending at most and each year there are 16 to 19 races. The race usually starts on the middle of the March and ends on the end of October. Each race can attract more than one billion audiences seeing it through TV and other mass medium.
The Formula One Grand Prix together with the Olympic Games and the World Cup are the Three Grand Competitions of the World. It has 300 million faithful fans all around the world. The Formula One Chinese Grand Prix is held in Shanghai every year since 2004. The Formula One Chinese Grand Prix 2004 achieved an unprecedented success in Shanghai and the Formula One has been much more prevalent in Shanghai and many other big cities in China since then.
China Highlights provides F1 packages which include hotels and tickets booking services. We can also tailor-make a tour to suit your needs.
Features
1. The Shanghai International Circuit, regarded as one of the most impressive circuits in the world, is really new, which was officially opened at 2004. The facilities and architecture are in their best situation.
2. The circuit is designed by Formula One's resident architect, Hermann Tilke. He got inspiration from the Chinese character上 (pinyin:Shang) in the name of Shanghai (上海) for the circuit. It combines ancient Chinese culture with one of the most modern competitions in the world.
3. The circuit is designed to test drivers' limits. The circuit is 5,451 kilometers (3,387 miles) long features sweeping curves, long straights and hairpin turns with rising and falling gradients. There are totally 16 corners, among which nine are right-hander and seven are left-hander. Drivers will hit around 300kph (186mph) on the long straight between Turns 13 and 14 which is nearly 1300 meters (1421 yards) long. It offers drivers opportunities to overtake their opponents, which definitely adds much more excitement to the event.
4. It is held in Shanghai, the biggest multi-culture metropolis in China, which attracts millions of visitors home and aboard. It oozes an atmosphere of vitality, and a dynamic which can rival New York in the United States and Paris of France in terms of modernity. The Bund, the Huangpu River Cruise, the blend of eastern and western cultures and the gorgeous night scene are all very attractive. Read More about Shanghai
Date: April 18, 2010
Venue: Shanghai International Circuit. It is located at 2000 Yining Road, Jiading District, Shanghai, 30 kilometers (19 miles) from the city center and 20 kilometers (12 miles) from Shanghai Hongqiao International Airport.
Transportation: There are usually four special lines during the competition period, which can bring spectaculars to the Shanghai International Circuit from the city center. (Please see on China Highlights website if there is any change before the competition.)
Line 0ne: starts from Shanghai Sport Center (Lingling Road, Xuhui District)
Line Two: starts from Shanghai International Gymnastic Center (777 Wuyi Road, Changning Districy)
Line Three: starts from Pudong Yuanshen Sport Center (9 Yushan Road, Pudong New District)
Line Four: starts from Hongkou Soccer Stadium (444 Dongjiangwan Road, Hongkou District)
Number of Laps: 56
Circuit Length: 5,451 kilometers (3,387 miles)
Race Distance: 305,066 kilometers (189,559 miles)
Lap Record: 1:32.238 - M Schumacher (2004)
Race Tickets: You can buy race tickets on the internet. The entry of the official website of Formula One is http://www.formula1.com/tickets_and_travel/