Gongcheng Peach Blossom Festival
Celebrated: Feb.&nbsp22 to Mar.&nbsp22
Location: Guilin
The Gongcheng Peach Blossom Festival is celebrated about two weeks in March when the peach trees are in full bloom on Daling Shan ('Big Mountain Range Hill') in Xiling Township, Gongcheng County, Guilin Prefecture, Guangxi Zhuang Autonomous Region (广西壮族自治区桂林市恭城县西岭乡大岭山).
As the beginning of a series of tourism festivals in Guilin, Gongcheng Peach Blossom Festival is one of the highlights of Guilin's spring attractions, and attracts people from all over the country. Besides magnificent hillside views of peach blossom, you can also experience Yao minority customs through various interesting activities.
Features
Southern agricultural scenes
2,000 meters of peach-tree-lined road for tourists to enjoy
Traditional cultural activities
Tasty oil tea
Unique Yao customs
Activities
Confucius-worshipping Activity (祭孔活动)
It's one of the oldest activities with more than a 2,000-year history in China. Visit the Confucius Temple in Gongcheng Town, where people often give traditional performances in the ceremony.
Large-Scale Theatrical Performance (大型文艺演出)
There are performances of different kinds.
Oil Tea Feast (油茶宴)
Oil tea is one of the specialties of Guilin's minority peoples, and there is also an Oil Tea Cultural Festival. The special tea has a beautiful color, strong smell, and tasty flavor. It canaid digestion and wake you up.
Folk Culture Show(民俗文化展示)
You can experience unique local folk culture on every side through the show, especially Yao customs.
How to Get There
Daling Hill is only about 100 km from Guilin city, but taking a bus from Guilin bus station to Gongcheng Town, a second bus to Xiling Township, and then either a minibus or pedicab to Daling Shan, takes over 4 hours.
Far better is to take private transport (provided for all our Guilin tours) and get there in 2? hours.
Recommended Festival Tours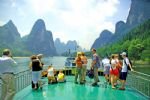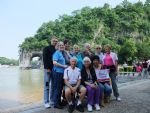 Questions and Answers About Gongcheng Peach Blossom Festival
April Offer $25 Coupon
Send your inquiry before Apr. 30, 2014, and we will email you a $25 coupon.
The coupon is valid till Dec. 31, 2014, for paying tour packages worth $250 or up.
The coupon cannot be used for paying flight tickets, train tickets, hotel rooms and day trips.
Travel Advice or Question? Ask us here