Guangzhou International Food Festival
Celebrated: Sep.&nbsp2013
Location: Guangzhou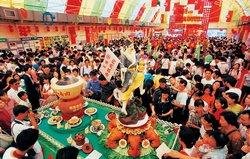 Cantonese cuisine, one of the 'Eight Great Cuisines' in China, not only takes advantage of the local flavors, but also combines them with strong flavors from abroad. It is a blend of Chinese and Western foods. For centuries, Guangzhou has formed a unique food culture, and gained the reputation of "East and West, Cantonese food is the best".
History
Guangzhou International Food Festival was founded in 1987 and, since then, has gradually become a famous tourism festival centering on "food", mixed together with wonderful activities of entertainment, commerce and tourism. The festival, as an annual eating event, attracts a large number of tourists both at home and from abroad every year. Visitors join the amazing food party to taste delicious food and to experience the unique dietary culture of the Lingnan area.
What's on Offer
Visitors can taste China´s 'Eight Great Cuisines', such as Sichuan cuisine and Hunan cuisine, both of which are famous for their spicy flavors, Shanghai cuisine for its sweet flavor, and varied local cuisines like the Temple Head pineapple chicken, Hengsha´s elegant young pigeon, and a Litchi fungus teal pen village, etc. More than 600 kinds of delicacies from Russia, Spain, Brazil, Japan and other countries are also displayed at the festival. Guangzhou International Food Festival is definitely a super feast of vision and taste that you cannot miss.
Travel Information
A trip to see the Guangzhou International Food Festival would be best as a customized part of one of our Guangzhou tours, or contact us to tailor-make a tour including the Guangzhou International Food Festival.
Address: Panyu Food Court, Panyu Avenue, Panyu District, Guangzhou.
How to get there: bus 210, 214, 506, 510, 516, 560, B29, B30 and B31.
Recommended Festival Tours
Planning a trip? Ask us here 800-2682918 (USA & CA)
86-773-2831999 (Int'l)
Q:
kambalah
Asked on 2013-09-17
Reply
Hi,where can we take bus or metro rail goin to panyu food court.in panyu district.thank you!
Hi Kam, where are you located, please? Bus No.186, or Pan 25, Pan53, Pan188, Pan13 can all take you to the nearest Dashiqiao South Station大石桥南站. Walk serveal meters, you can get there. Whitney Liao Replied on 2013-09-18
Q:
kambalah
Asked on 2013-08-21
Reply
When will 2013 Guangzhou international food festival start.ty

It will be held from Aug. 27th to 29th in Guangzhou. guest Replied on 2013-08-22