Huangyaguan Great Wall Marathon
Time: The Great Wall International Marathon is held on the third Saturday of May every year. The 2013 Huangyaguan Great Wall Marathon kicks off on May 18, 2013.
Location: Huangyaguan Great Wall, Jixian County, Tianjin (about one hour drive from Beijing)
REGISTRATION NOTICE:
The Great Wall Marathon 2013 is SOLD OUT and closed for registration.
Next race is 17 May 2014 and registration is expected to open in early July.
Route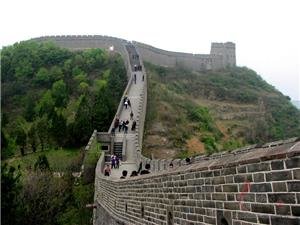 The Huangyaguan Great Wall Marathon route, confirmed by the International Marathon Association, has a standard length of 42.195 kilometers. To meet participants' diverse abilities, different marathon races are promoted, including a male and a female marathon, a half marathon, a 5-kilometer marathon, and 10-kilometer marathon. The entire route of the Huangyaguan Great Wall Marathon has been confirmed as a standard international mountain marathon by the International Track and Field Association. Except for 3700 steep steps, the race features a serene countryside landscape and a deep ethnic culture, allowing runners to really enjoy themselves.
Overview
The Huangyaguan Great Wall, located in the mountains with peaks rising one higher than another, jumps its way up and down as a linkage between the cliffs and the crags. It is one of the best places to hold a marathon since it integrates culture, sports, and travel. The Great Wall International Marathon has been held 11 times since 1999. Over 1500 marathon enthusiasts from more than 40 countries and regions have joined in this joyful event. It has now become an important race of the International Marathon Association. China Highlights can help you desgin a tour to attend this event; or see our Sports Tours.
Questions and Answers About Huangyaguan Great Wall Marathon
Carmella Belk
2014-01-16
Show Answer
is it to late to register for 5/14,in not how do I, and how much does it cost?
Hi Carmella, it is still not too late. The d
eadline for registration is 20 March 2014. The 2013 event sold out early, so we advise you to book soon to avoid disappointment. For the exact cost, please contact them directly:

+45 36 98 98 38
marathon@albatros-travel.com
Whitney Liao replied on 2014-01-21
April Offer $25 Coupon
Send your inquiry before Apr. 30, 2014, and we will email you a $25 coupon.
The coupon is valid till Dec. 31, 2014, for paying tour packages worth $250 or up.
The coupon cannot be used for paying flight tickets, train tickets, hotel rooms and day trips.
Travel Advice or Question? Ask us here