Jin Feng Festival
Celebrated: Mar.
Location: Guilin
Jin Feng Festival is a traditional ethnic festival that is held annually in Miaoping Village, near Longsheng. In order to thank the god of the Yao people, who is believed to protect them from disasters and bless them, local residents dress in their traditional costumes, and get together celebrate Jin Feng Festival.
Activities
The folk dances of the Yao people and a big meal in every family home are an indispensable part of the festival. The hospitable Yao people will invite you to have some tasty food with them, if you're lucky enough to be there. Don't hesitate any more, the mysterious and wonderful Yao culture is waiting for you!
History
Jin Feng Festival has a history of more than 1,000 years. According to a legend and sayings of the elders, Yao people once infuriated the god of wind. Therefore the god of wind punished them by sending storms to destroy Yao towns, and made them homeless. Fortunately the god of the Yao told them a way to avert the disaster: by keeping silent when the god of wind came. It worked.
So Yao people have celebrated a festival since then. But today local people don't have to keep silent any more. The festival has become a lively time of celebration.
Travel Information
A trip to see the Jin Feng Festival would be best as a customized part of one of our Guilin Tours. See more of the Yao on a Longsheng tour.
Address: Miaoping Village, Wantian Yao Nationality Township, Linggui County, Guilin.
How to get there: You can easily take a bus from Guilin Bus Station to Wantian for 5–10 yuan per person.
Admission: free.
Recommended Festival Tours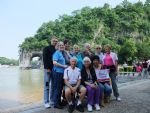 Questions and Answers About Jin Feng Festival
kathy
2014-02-28
Show Answer
when is Jin Feng Festrival in 2014 please?
Hi kathy, the festival is held every Janurary 20th of lunar calendar. It was held in 19th, Feb. in 2014. Simon Huang replied on 2014-02-28
Piero
2012-12-29
Show Answer
Hello Ruru, could you post the exact dates of the festival? Thank you very much, Piero
Hi Pirro, it is on the days before, during and after 20, Jan, Chinese Lunar New Year.
Whitney Liao replied on 2012-12-31