Lanting International Calligraphy Festival
Shaoxing, a city in Zhejiang Province, is famous for two things: rice wine and calligraphy. The city celebrates its calligraphy heritage every spring with the Lanting International Calligraphy Festival.
Varying date: The festival takes place on the third day of the third month of the Chinese lunar calendar, in March or April of the Western calendar.
Festival Honors "Saint of Calligraphy"
The festival honors Wang Xizhi who wrote, "Lanting Xu," which is the most famous piece of calligraphy work ever. Wang Xizhi is known as the Saint of Calligraphy. Calligraphers come from around the globe to honor him on festival day.
Festival Events Center on Writing
As might be expected at a calligraphy festival, events center on this ancient art. Calligraphy demonstrations dominate the festival. Exhibitions of calligraphy can be found at both the Shaoxing City Square and the Shaoxing Museum. The festival generally opens at the Memorial Temple of Wang Xizhi, a cultural center in Lanting, a suburb of Shaoxing.
Festival-goers can also attend a re-creation of "Qu Shui Liu Shang", an ancient game that features writers floating cups of wine on a stream. Where it stopped the writer nearest the cup had to drink the wine and compose a poem. This is how Wang Xizhi wrote "The Orchid Pavilion", one of his most famous works. Lanting (兰亭) means Orchid Pavilion.
Travel Information
A visit to Shaoxing and Lanting is best combined with a Hangzhou tour or a Shanghai tour.
There is frequent bus and train service from Shanghai South Station to Shaoxing, via Hangzhou, which is only 60 km northwest. The trip takes just over two hours by train. Lanting is about 10 km southwest from the center of Shaoxing, a short taxi ride.
Recommended Festival Tours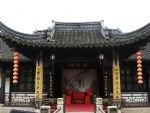 Questions and Answers About Lanting International Calligraphy Festival
randy
2011-04-06
Show Answer
how much does it cost
Hi Randy, There is no entrance ticket for the Calligraphy Festival. Everybody is welcome to feel the charm of the calligraphy. If you wish to join it, feel free to email me for further arrangements. Candy Wei replied on 2011-04-07
April Offer $25 Coupon
Send your inquiry before Apr. 30, 2014, and we will email you a $25 coupon.
The coupon is valid till Dec. 31, 2014, for paying tour packages worth $250 or up.
The coupon cannot be used for paying flight tickets, train tickets, hotel rooms and day trips.
Travel Advice or Question? Ask us here