Luoyang Festivals
Luoyang's 3 festivals and events are not especially famous, but are well worth attending if you are there at the time. The Bell Striking welcomes in the New Year with 108 bongs, and there is a peony fair in spring and a tourism festival in September.
See the ancient capital of Luoyang with our Luoyang tours, and be there for one of the festivals if you can.
Luoyang Festivals and Events List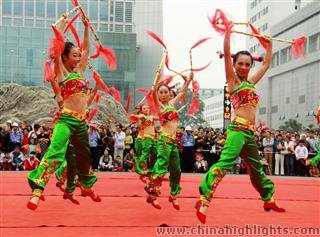 Sep.&nbsp19,&nbsp2014 to to Sep.&nbsp24,&nbsp2014
Heluo culture is the core of Chinese traditional culture, and Luoyang is the center of Heluo culture. In order to promote the development of Heluo culture, inherit the civilization of Luoyang, and... Read more
Apr.&nbsp1,&nbsp2014 to to May.&nbsp5,&nbsp2014
Luoyang Peony Festival is very popular among Chinese tourists and peony enthusiasts the world over. Each year from mid-April to mid-May, the peonies are in full bloom, generally reaching thei... Read more
Questions and Answers About Luoyang Festivals
April Offer $25 Coupon
Send your inquiry before Apr. 30, 2014, and we will email you a $25 coupon.
The coupon is valid till Dec. 31, 2014, for paying tour packages worth $250 or up.
The coupon cannot be used for paying flight tickets, train tickets, hotel rooms and day trips.
Travel Advice or Question? Ask us here
China City Festivals
Chinese Festival Calender