Nanjing Festivals
There are 4 Nanjing festivals and events listed below, none of which are particularly famous, but may be of interest if you are in Nanning on the dates below.
Historic Nanjing has a Climbing the City Wall event in February, followed by the Plum Blossom Festival. The Spring Outing Festival is in April and there is a Software Product Expo in September.
If you book a Nanjing tour with us, just let us know if you want to attend one of these festivals and we will add it to your program.
Nanjing Festivals and Events List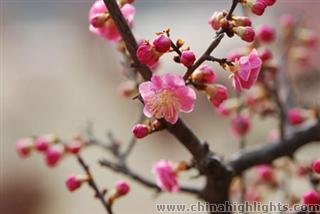 Feb.&nbsp2014
Pink plum blossom of Nanjing International Plum Blossom Festival This annual festival showcases the plum blossom garden on Purple Mountain in the eastern part of Nanjing, and nearby attractions s... Read more
Feb.&nbsp24,&nbsp2013 to Feb.&nbsp24,&nbsp2013
Location: Nanjing at the Confucius Temple in Jiangsu ProvinceThis interesting festival has a long history. It was traditionally held between the Chinese New Year Spring Festival that starts on the fir... Read more
China City Festivals
Chinese Festival Calender