The Naxi Torch Festival
The minority peoples of Sichuan and Yunnan provinces bring new meaning to the old song lyrics, "there'll be a hot time in the old town tonight," as they celebrate the annual Naxi Torch Festival.
Torches Burn for Three Days
For three days, torches burn outside homes and light up the hills as bearers walk in the surrounding area. The torch festival is celebrated not just by the Naxi ethnic people but also by the Yi, Bai, Jino and Lahu nationalities.
Festival dates: Each village may celebrate on a different day, but most celebrate it on the 24th day of the sixth lunar month. In 2013, the torch festival will be celebrated on July 31 on the Gregorian calendar.
The festival is an ancient folk custom that has been passed down for generations. Villages may have different legends as to how the festival originated, but most center around driving out evil and giving thanks for the past year and for the coming year.
Besides the fiery torches, activities include bull, cock, and sheep fights; lots of traditional singing and dancing; horseracing, and eating and drinking. Activities vary from village to village, and some may not light bonfires until the final day.
Where to Enjoy the Festival
Shuhe is one Naxi village that celebrates the torch festival. It is located four kilometers from Lijiang, and is easily reachable by taxi.
A visit to Shuhe to take in the Torch Festival is best combined with a timely Lijiang tour.
See also the Xichang Torch Festival
Recommended Festival Tours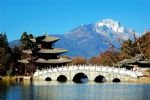 Questions and Answers About The Naxi Torch Festival
April Offer $25 Coupon
Send your inquiry before Apr. 30, 2014, and we will email you a $25 coupon.
The coupon is valid till Dec. 31, 2014, for paying tour packages worth $250 or up.
The coupon cannot be used for paying flight tickets, train tickets, hotel rooms and day trips.
Travel Advice or Question? Ask us here