Qingdao International Beer Festival
Celebrated: Aug.&nbsp11 to Aug.&nbsp26
Location: Qingdao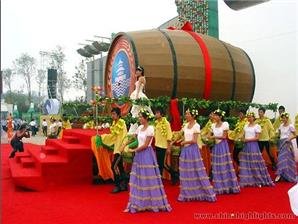 People are celebrating Qingdao International Beer Festival.
Co-sponsored by relevant state ministries/commissions and the People's Government of Qingdao City, Qingdao International Beer Festival was started in 1991 when the city was celebrating her 100th birthday. In the last decade, Qingdao International Beer Festival is becoming a large-scale state-level festive event for the people of the whole city.
For the celebration, top brewers are invited from Germany, the United States, Denmark and Britain including Budweiser, Carlsberg, and domestic beer giants like Tsingdao Beer and Beijing Beer have booked booths in the camps. When the festival is coming, the Beer City becomes a place of boundless joy with great dins of drums and trumpets. There are spectacular fireworks shows on the sea, together with a great parade made up of military bands, ethnic tropes, and arrays of colorful flags, balloons, and festooned vehicles. Tourists can indulge themselves in beers of many brands from all over the country.
Qingdao is deceptively named "Green Island" in Chinese, despite it having no island, and locals refer to this laid-back town as the "island city." With its clean beaches, European architecture and great beer, Qingdao boats an idyllic getaway to spend a few relaxing days strolling along the boardwalk while watching the sun rise over the ocean.
Having beers as a medium, the festival promotes the friendship and economic cultural exchanges between people of Qingdao and others all over the world and also promotes Qingdao to the world front.
Questions and Answers About Qingdao International Beer Festival
Simon Swee
2013-09-24
Show Answer
When is the best time to go qingqao and when is the beer festival ?
Hi Simon,
Qingdao International Beer Festival is one of the biggest festivals in China. It is celebrated about from Aug. 11, 2013 to Aug. 26 every year. If you are interested, you can try then.
Christy Luo replied on 2013-09-24
April Offer $25 Coupon
Send your inquiry before Apr. 30, 2014, and we will email you a $25 coupon.
The coupon is valid till Dec. 31, 2014, for paying tour packages worth $250 or up.
The coupon cannot be used for paying flight tickets, train tickets, hotel rooms and day trips.
Travel Advice or Question? Ask us here