Qingdao Festivals
Qingdao's festivals and events are few, but not lacking in quality. Qingdao beer is famous worldwide, and the Qingdao Beer Festival annually invites top brewers from around the world to proffer their wares at the home of Chinese beer manufacture.
The Qingdao Ocean Festival is the only on of its kind in China, with ocean seminars, marine sports, and much more.
Attend one of these festivals and see Qingdao's other attractions with a suitably timed Qingdao tour.
Qingdao Festivals and Events List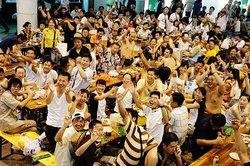 Aug.&nbsp11,&nbsp2013 to Aug.&nbsp26,&nbsp2013
People are celebrating Qingdao International Beer Festival. Co-sponsored by relevant state ministries/commissions and the People's Government of Qingdao City, Qingdao International Beer Festival ... Read more
Questions and Answers About Qingdao Festivals
Wolfgang Wegener
2013-01-11
Show Answer
Ni hao,in August 2013 I plan to visit (take part) the beerfestival. All flights from Europe are booked and a upmarket hotel in Qingdao as well.I`m afraid the houses of Holiday Inn chain are well apart of the city and the location of the event itself.Could you give me some suggestions for 4* and 5* accommodation in the inner city?Thank you fo the help!
Hi Wolfgang, you can check the hotels in Qingdao via here: http://www.chinahighlights.com/hotel/qingdao-hotels/
Whitney Liao replied on 2013-01-13
China City Festivals
Chinese Festival Calender