Qufu International Confucius Festival
Celebrated: Sep.&nbsp26 to Sep.&nbsp28
Location: Qufu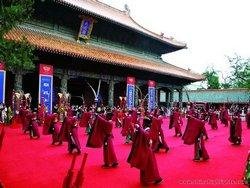 Performance on Qufu International Confucius Festival
The Qufu International Confucius Culture Festival is held every year between September 26th and October 10th in Qufu City, hometown of Confucius. Confucius (551-479 BC) was born on September 28th in Qufu, Shandong Province.
Celebrations include a grand ceremony of worshipping Confucius, performances at the Temple of Confucius and the Cemetery of Confucius and occasionally a kung fu competition. These performances are often accompanied with ancient music and dance, which are performed in an ornate manner.
Confucius Culture Festival serves not only as a pageant to commemorate the world-famous philosopher, but a chance to introduce a splendid Chinese culture to the whole world.
About Confucius
Confucius was a great educator and philosopher in ancient times and the founder of Confucianism. The most outstanding achievement of Confucius was in the field of education. He broke the tradition in which culture and education were controlled entirely by the slave owners and the aristocrats. It was he who first set up private schools and received students from every walk of life without consideration of their social status.
A visit to the hometown of Confucius, Qufu, is included in almost all featured tour packages to Shandong Province. Please check out our tours to Qufu.
Questions and Answers About Qufu International Confucius Festival
Maria
2012-01-24
Show Answer
Where do you stay while on the tour?
Hi Maria, Do you mean accommodation? You will stay at the hotel on the tour. We will select the center-located hotels for you. Please let me know that which tour you want to take. Michael Hu replied on 2012-01-29
April Offer $25 Coupon
Send your inquiry before Apr. 30, 2014, and we will email you a $25 coupon.
The coupon is valid till Dec. 31, 2014, for paying tour packages worth $250 or up.
The coupon cannot be used for paying flight tickets, train tickets, hotel rooms and day trips.
Travel Advice or Question? Ask us here