Shanghai Fitness Festival
Celebrated: Nov.&nbsp01,&nbsp2013 to
Location: Shanghai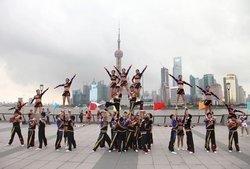 Celebrated: November, 2013
Location: Shanghai
In order to strengthen
Shanghai
citizens' health and evoke their enthusiasm for sports, Shanghai government organizes the festival every year to offer a platform for people to take part in various sports competitions.
Features
To provide attendees with more opportunities, the number of the festival's sport activities has reached to more than 200. The activities are rich and colorful, which range from activities and games geared towards children to those geared towards the seniors, and people from the other countries can also participate in the activities if they like. Every year, the festival attracts more than one million participants, especially the Shanghai International Marathon on the last day.
The variety of sport activities in the festival is rich and colorful, building a platform for local citizens and tourists to develop strong bodies, make friends while playing sports, invigorate bodies and release minds. The Shanghai International Marathon is regarded as the focus of the festival. Now a well-known Shanghai event, the marathon has attracted more and more people to take part in it with its rising fame. There are few application requirements for marathon participants. Regardless of nationality, any person who has a certificate of good health and valid ID can register.
Travel Information
A visit to the festival is best combined with on of our
Shanghai tour
. Contact us and we can help
you with a Shanghai tour, flights, and hotels.
How to attend:
any person who has a certificate of good health and valid ID can register.